The Advantages of Multi-Site POS Systems for Restaurants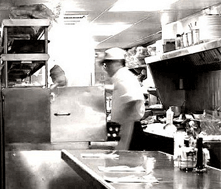 The right point-of-sale system can help to streamline your restaurant's daily operations; increasing productivity, enhancing the customer experience, and ultimately boosting your profits. In short, a well-integrated POS system lays the foundation for greater success, and with that success comes the potential to grow and expand into new locations. But to take full advantage of that potential you need a POS system that can grow along with your business. One that will eventually support the running and management of all of your business' various branches. With the advent of new and improved software, as well as cloud-based data technologies, highly scalable POS systems can be tailored to support nearly every restaurant business model. They are designed to grow as your business grows, making it easy to manage multiple locations from one central hub, while maximizing efficiency across all of your active restaurant outlets.
The Benefits of a Multi-Site POS System
There are a great many benefits to a multi-site POS system, not the least of which is the ability to manage all of your business' different outlets as a strategic whole rather than as separate entities. This allows you to maximize the potential of each location, and to ensure that they work together to support the overall success of your enterprise. This is achieved through some key features, all of which are supported by a restaurant specific multi-site POS system.
Inventory Control: A multi-site POS system makes it possible to keep track of on-site inventory and food usage patterns at all of your locations. Surplus stock can be redirected to locations where it is needed, cutting down on any losses due to spoilage or waste. Preferred suppliers and cost parameters can be predetermined, so that each location's on-site staff can order in a controlled environment.
Employee Scheduling: Labor management is enhanced with a multi-site POS system, allowing you to review staffing requirements and schedules at all of your restaurant locations through a single interface. Labor shortages can be addressed immediately, with staff being transferred or temporarily reassigned as needed to fill any pressing vacancies.
Multi-User Management: Employee access to your POS system can be assigned according to region, site, and department. This gives you control over what information can be accessed by members of staff at various locations. You can also configure the system to restrict access to certain functions, such as issuing refunds or applying discounts.
Menu Customization: A multiple POS system allows you to customize each location's menu to maximize profit margins. You can target a promotion for one outlet, increase or decrease prices in another, and switch out unpopular menu items in a third. Local menus can be adjusted according to specific demographic information, increasing each location's potential for success.
Unified Customer Database: With a multi-site POS system you can keep track of preferred customers and monitor how they engage with your business. A unified customer database also supports loyalty programs, and makes it possible to target specific promotions by region and clientele.
Online Ordering: A fully integrated multi-site POS system can be linked to your website, making it easy for customers to find the most convenient location, and to place online orders for take-out or delivery according to that location's current menu.
Off-site Reporting: With cloud-based data technologies, comprehensive sales and performance reports are readily accessible by owners and regional managers alike, all via a single online data portal. Detailed metrics for each location (including sales figures, inventory costs, and payroll expenditures) can be easily retrieved and reviewed with an eye towards improving efficiency at all branches. With a multi-site POS system under-performing locations can be closely monitored, and sales promotions and incentives targeted to improve returns on investment.
As you can see, a multi-site POS system has many distinct advantages and with modern software solutions your point-of-sale system can grow as your business grows, expanding to support multiple locations while remaining a cost-effective management tool.
Choosing a Multi-Site POS System
The key to a multi-site POS system is the ease with which it can be integrated into, and grow along with, you and your business. Of course, it must also be cost effective so that your business can grow at a steady pace without adversely impacting your bottom line. While there are certainly many options available to the up and coming restaurateur, some POS system do stand out in a crowded marketplace. Toast, and industry leader in restaurant specific POS systems, is a perfect example.
Toast offers restaurant specific POS systems designed to meet the needs of a variety of business models. Their POS systems are not only highly customizable, but the web-based nature of their product makes it an ideal choice for businesses looking to expand into multiple locations. With Toast's exclusive software it is easy to integrate multiple restaurant locations into a cohesive whole, while giving owner's and management total control from a single interface. Moreover, Toast is an affordable proposition for budget conscious restaurateurs. Initial hardware and set-up costs are kept to a minimum, starting at around $1300 for full installation in a single location. Discounts are available for multiple set-ups, and in many instances Toast's software can be installed on existing hardware to further maximize savings. Toast's service and support is also kept at an affordable level, starting at $100 per month for single user accounts, with additional discounts being offered for multi-site service packages. Though by no means the only vendor offering multi-site POS systems for the hospitality industry, Toast is one of the most flexible and responsive to the needs of restaurant owners looking to grow and expand their business.
Your point-of-sale system should help to streamline daily operations in your restaurant, increasing productivity and boosting your bottom line. But it should also do much more. It should help to lay the groundwork for future success, giving you the tools you need to expand operations into new markets. The ideal POS system not only offers room for growth, it supports that growth with the kind of multi-site integration and support that will continue to drive your success.