Investigating the Best Restaurant POS System Companies in the Industry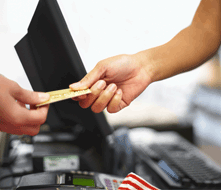 The first, and most critical, decision any restaurant owner must make when choosing to integrate POS technology into their establishment is partnering with the right vendor. Many POS companies claim to offer a one-size-fits-all solution, designed to support a wide variety of business models. However, that rarely holds true when it comes to the hospitality industry. Restaurants have different operational demands than other, more general, retail establishments, and so-called all-purpose point of sale systems fail to fully address those demands. Running a restaurant is a complex business, and it is important to choose a POS system that supports every aspect of your establishment's daily operations.
When choosing a POS system, and the company behind it, there are three primary considerations:
Does the company offer restaurant specific POS systems? Again, this is critical to finding a POS system that can answer all of your specific needs. A POS system in any type of restaurant setting must do more than simply ring up sales. It must support communication between the front and back of house, track sales and food/liquor usage, support multiple menu interfaces, and allow for online ordering and delivery tracking. All this in addition to the standard employee scheduling and general accounting features that should be common to all good POS systems.
Does the company have experience working with restaurants and the hospitality industry? In addition to choosing a POS system that is specifically designed for restaurants, it is important that the company behind the system be experienced working with businesses in the hospitality industry.
Does the company provide ongoing support for their clients? This is a crucial question to ask, and a lot rides on the answer. A good POS company should offer 24/7 technical support for their clients. They should always be available to answer any answer any questions that you or your employees might have, and to troubleshoot any problems that may arise with the system itself.
These three questions are key to choosing the restaurant specific POS system that will support your business, increase sales and productivity, and enhance your customer service.
The Top Restaurant POS Companies in the Industry
Now that you have a better idea of what to look for in a restaurant point of sale system, it's time to investigate some of the top POS companies in the industry. The following vendors offer restaurant specific POS systems, each with their own unique features and support options. Some specialize in full service restaurants, while others cater to quick service establishments.
Aloha: Aloha is an industry leader, servicing both local and national restaurant chains. They specialize in POS systems designed to increase efficiency and productivity in both full service and quick service restaurants. Stand out features include:
Touch screen work stations with optional mobile device support for Aloha's Orderman hand-held interfaces.
Customizable menus, table side ordering, front and back of house communication, integrated guest management systems (table layout and work station details).
Online ordering support for take-out and delivery.
Remote support is available 18 hours a day, seven days a week. Onsite service is also available by appointment.
Diamond Touch: Specializing in quick service and fast food restaurant models, Diamond Touch POS systems are designed to support both full service and delivery. SmartCheck technology simplifies the ordering process, eliminating potential mistakes and streamlining employee operations. Features include:
Touch screen workstations with smartphone support for delivery drivers.
Customizable menus for simplified ordering, integrated guest management systems (table layout with detailed server information), real time tracking of both in-house orders and deliveries, support for loyalty programs and direct marketing.
Online ordering for take-out and delivery.
Technical support is provided via work order and by appointment.
Harbortouch: Harbortouch offers full featured POS systems that can be tailored to suit bars and quick service restaurants, as well as casual dining and fine dining establishments. Everything is provided in-house, from software to hardware (including workstations, printers, scales and caller ID units). Features include:
Touch screen workstations with iPad compatibility for table side ordering.
Real time menu editing, repeat customer database, guest management features, tableside ordering and payment (including Apple Pay), internal messaging, and robust employee management.
Supports online reservations, as well as as online ordering.
Phone and online live technical support is available. A quarterly fee is assessed for software and hardware support, as determined by the number of units under contract.
Firefly: The Firefly POS system is browser based, making it ideal for casual, fast casual, take-out/delivery restaurants, and bars. The user interface is easy to learn, and on-screen graphic prompts guide staff through the ordering process. Management and employees can sort, filter, and recall tickets to review orders over a one week period. Features included in the monthly fee include:
POS support for both traditional touch screen workstations and tablets.
Customizable menus and tickets, full featured management tools (including labor and inventory management), direct marketing support, and browser based technology allows for remote management and support
Online ordering is supported, and enhanced with Google maps for better delivery performance.
Technical support is provided by via phone and online help desk.
Focus: With more than 20 years in the industry, Focus is uniquely positioned to offer restaurant specific POS systems to meet almost every business model. Focus specializes in providing POS solutions for casual dining and fast food restaurants, as well as bars, nightclubs, and delivery based enterprises. Focus delivers detailed labor and sales reporting, supports multiple payment options (including Apple Pay), and boasts full featured marketing and loyalty reward options. Additional features include:
Support for both touch screen and iPad/tablet POS systems.
Customizable menus for table service, counter service, and take-out/deliveries; integrated displays for customer, kitchen, and primary stations; full labor and sales management support; age verification software for nightclubs and bars.
Online ordering with up selling features.
Technical support available through local dealer networks.
Future: Whether it's casual, quick serve, or fine dining Future offers affordable, highly customizable, POS systems for every business model. There web-based interface allows for remote monitoring from any device with an internet connection, allowing restaurant owners to keep a finger on the pulse of daily operations. Their advanced security features offer event driven video and surveillance. Focus POS systems also include the following specialized features:
Support for touch screen, hand-held, and tablets.
Multi-column modifiers to simplify on screen menus, digital signage tools to showcase promotions or carry television feeds, simplified kitchen displays for better order management, and age verification software to protect yourself and your business.
Online order software supports carry-out and deliveries, as well as catering and customer reservations.
Technical support is available through Future's dealer network, providing install and upgrade servicing, training, and routine system maintenance.
Pioneer: Pioneer POS systems have been used in restaurants, hotels and bars since 1997. Pioneer offers a full line of all-in-one POS systems, as well as specific software based POS systems for tablets and mobile devices, which can be configured to meet any budget. Basic features include:
Touch screen monitors in a variety of sizes.
Customizable menu and user interface, software options for standard touch screen as well as PC and tablets, state of the art sales and labor management tools.
Online ordering is not supported, but can be integrated using additional software.
Basic training is available, with technical support features outlined upon request.
PointOS: PointOS offers systems designed exclusively by bar and restaurant insiders, and are suitable for both large and small scale operations. Full featured restaurant specific POS systems are available with year round support starting at $99 per year. Initial set up costs are determined by number of terminals needed, as well as choice of components and features. Restaurant owners can choose from a wide array of features, including:
Touch screen or mobile integration.
Print to kitchen and/or service station, detailed item recipes for kitchen display, integrated credit card and personal check processing, full featured guest management systems, age verification software, and Windows Media Player interface for in house entertainment.
Online ordering is supported, including caller ID functions.
24/7 technical support is included in the annual fee.
Restaurant Manager: Restaurant Manager offers complete restaurant POS systems that can be tailored to virtually any food service establishment. Restaurant Manager POS systems provide inventory control, wire-less table side ordering and payment, real time alerts, and a full featured back office management suite to streamline daily operations. Systems can be designed to match any type of restaurant, and are entirely scalable to grow as your business grows. Stand out features include:
Touch screen monitors with optional credit card readers, support for hand-held and mobile devices, and iPad compatible software options.
Operational features can be customized to suit any business model. Restaurant Manager's POS solutions automatically back-up to the Cloud for added safety. Customers receive quarterly software updates and regular anti-virus scans.
Optional online ordering features can be included in any start-up package.
Technical support is available upon request.
Revel: Revel offers iPad based POS solutions for food service businesses ranging from mobile food trucks and carnival vendors to quick service and full service restaurants. Prepackaged POS systems are designed to accommodate any business model, with customizable software options to match. Available options and features include:
Apple iPads with optional wireless routers, credit card scanners, printers, coin dispensers, and digital menu boards.
Revel's POS software can be customized to suit nearly any operation. In addition to standard management features Revel offers real time reporting, customizable POS stations, custom menu building, and an e-commerce platform to support and enhance all of your online services. Revel supports multiple payment options, including Apple Pay, Bit Coin, and PayPal, making it an ideal solution for trendier, youth oriented, establishments.
Online ordering is supported and enhanced with real time delivery tracking.
Technical support is provided from initial set-up and training through to all daily operations.
Soft Touch: Soft Touch has been servicing the hospitality industry since 1994. Their POS systems are state of the art, and offer customizable from bottom to top to provide a form fitting system to suit any type of restaurant. From self-serve to table side ordering, from full service to home delivery, Soft Touch can accommodate the most demanding restaurant owners, with cost being determined by the customer's system and software choices. Available options and features include:
Support for touch screen, mobile, and hand-held devices.
Stack-able software that makes for easy, and specific, customization. Packages are available to support front and back of house communications, table side ordering and payment, bar management, touch-less sign in for employees, real time customer notifications for improved service, and table management programs to accommodate high volume restaurants.
Online ordering software is available and be integrated into any existing web presence.
Technical support is available 24/7.
Touch Bistro: Touch Bistro offers an iPad based POS system. It is highly customizable, and be fitted to almost any type of food service enterprise from full service restaurant to mobile food truck. Because Touch Bistro is software based, they can offer more value at lower prices than most of their competitors. Touch Bistro is subscription based, with fees ranging from $69 to $399 per month depending on level of service. Optional features include:
iPad and mobile device support.
Touch Bistro offers a variety of software features, including table side ordering, easy bill splitting, guest management, multiple payment options, inventory tracking, real time monitoring, and free software upgrades. Data is backed up to the Cloud for enhanced security and redundancy.
Online ordering is not supported.
Technical support is available 24/7 via phone and email.
Vital Link: Vital Link is designed with the quick service and delivery restaurant in mind. Customized menu interface and integrated credit card processing makes is geared towards smaller food service establishments with high turnover. Affordable options are available to meet every budget. Features include:
Touch screen monitors with integrated credit card readers.
Simplified ordering with on screen prompts, sales tracking and inventor management, real time reporting to enhance management operations, labor management and basic accounting features.
Online ordering is supported, with real time tracking and mapping capabilities.
Technical and operational support is available via the web, and by phone.
Choosing the right POS system, and the company that supports it, will take some time and careful consideration. This brief overview is merely a gateway to the many choices that are available to the food service entrepreneur. Here at Restaurant POS Central we have an ongoing relationship with all of the top POS suppliers, and our experience in the industry is available to help you find the POS system that best suits and supports your restaurant and its daily operations. If you are shopping for your first POS system, or are looking to upgrade to a newer and more fully comprehensive restaurant specific point of sale system, let us be your guide.