How to Read Restaurant POS System Reviews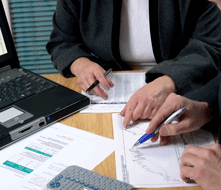 As you begin your search for a suitable restaurant specific point-of-sale system, you'll find it necessary to do a bit of basic research. POS systems come in many different forms, and to realize the greatest benefits you need to find the one that best matches your own particular business model. For example, a POS system with hardware and software specifications designed to support a full service restaurant can be too much for a smaller corner cafe, with the added features complicating, rather than simplifying, daily operations. Likewise, POS systems geared towards leaner quick service restaurants can rarely meet the more varied demands of a full service bar or fine dining establishment. In order to get the greatest return on your investment, you need to find a POS system that answers your business' specific demands.
Reviews, both online and in trade journals, can provide a fair amount of insight into different POS systems, and can help guide you through the maze of choices. However trade reviews are sometimes thinly disguised marketing, whose underlying purpose is to sell the product being reviewed rather than to examine it honestly and without bias. This can easily lead to confusion, making it difficult to determine if the system in question is really the solution to your point-of-sale needs. So, the question becomes "How do you read a POS system review with an eye towards separating the sales pitch from the actionable information you need to make an informed purchasing decision?" With this guide, we hope to give you the answer to that question.
Different Restaurant Types Demand Different POS Systems
When approaching any POS system review, the first question to ask yourself is if the product is applicable to your specific business model. Again, full service and quick service restaurants have different demands, and it is important to understand from the outset if the POS system under review has been designed to support one or the other. Some reviewers may suggest that any and all point-of-sale systems can be tasked to support any type of restaurant, but that is rarely the case. While any good POS system should be highly customizable, trying to modify a QSR specific POS system to meet the needs of a full service restaurant, and vice versa, is a waste of time, effort, and money.
To help clarify, let's take a quick look at the two basic types of restaurants and the business models that fall under their umbrellas:
Full Service Restaurants (FSR)
Full service restaurants require a more diverse array of features from their POS systems. Beyond simplifying ordering and payment options (including table side support), they also require extensive front of house to back of house communications, integration between wait stations and bar, real time table management, and order/sales tracking. They should also provide a full featured back office interface that supports labor management, inventory tracking, and all accounting duties. POS systems for full service establishments will also have more extensive hardware needs, including multiple terminals/displays (for front of house, back of house, and bar/wait stations), credit/debit card readers, multiple printers (kitchen, bar, and wait stations), and food and liquor scales. Full Service Restaurant models would include the following:
Fine Dining Restaurants
Casual Dining Restaurants
Cocktail Bars/Family Pubs
Ethnic Restaurants (Japanese, Chinese, Italian, etc)
Quick Service Restaurants (QSR)
Quick service restaurants are typically leaner operations, although their POS system needs are no less specific. POS hardware for QSR business models generally includes credit/debit card processing equipment, cash drawers, food scales, and one or more terminals for wait staff and kitchen line. Software for QSR establishments should support food usage tracking, online ordering, sales tracking, labor management and general accounting. Typical Quick Services Restaurant models include:
Delis
Coffee Shops
Pizza Delivery and Take-Out Restaurants
Bakeries
Food Trucks
Basic Support and Software
Once you find some reviews that address your specific business model, it's time to consider a couple of basic POS features – the operating system and customer support. These two areas are particularly important when choosing a POS system for your restaurant, and regardless of actual features offered (which we'll get to in a moment) are of primary concern.
Operating Systems (OS): POS systems run on a wide range of operating systems, including DOS, Windows, Apple iOS, Linux and Unix. In many instances the final choice will come down to personal preference and/or the overall cost of integrating the POS system into your existing restaurant infrastructure. Most restaurant specific POS systems are Ethernet based, meaning you will have to have your restaurant wired for basic computer compatibility. Increasingly, wireless POS solutions which are particularly beneficial to QSR business models.
Service and Support: The second major concern when choosing a POS system is customer support. All POS companies offer some level of support for their clients, but a full featured support plan is crucial. That means more than simply training and software updates. Ideally, the POS system you choose should come with 24/7 emergency support, either by phone or via online chat. In an emergency, your support team should be available to troubleshoot any problems and effect a solution quickly and efficiently so that your business is not interrupted any longer than absolutely necessary.
When checking out the reviews of possible POS systems for your business, pay close attention to the operating system and support features being discussed. An unbiased review should provide informative details on both of these key areas.
Restaurant Specific POS Features
When it comes to the hardware end of your POS system, most of the considerations will revolve around size and quantity. For example, a larger full service dining establishment will need more terminals and displays than a mom-and-pop bakery. Likewise, a chain of restaurants will need larger back office servers with more processing power than a lone coffee shop or corner bistro. Choice of hardware should come down to durability, and ease of integration into an existing POS set up so that you can expand your system as your business grows. A good POS review should address these concerns, and illustrate the compatibility and scalability of the hardware front-end of the system.
Beyond basic hardware concerns, the reviews you consult should also spend some time describing the available software features of the POS system in question. Again, every business model has different needs, and you are looking for a system that offers the software solutions your business most requires. That being said, the review should also address the scalability of the software features, and whether or not they are bundled together in one service or can be stacked up according to preference. This is particularly important if you are a small business owner on a budget, and are trying to source an affordable POS system that can grow along with your business. When you check out any review, look for the software features you'll want included in your POS system and consider how they are rated in terms of compatibility and ease of integration.
Some common software features that should be covered in any good review include the following:
Back Office Support (accounting, labor management, remote access capability)
Sales Tracking and Inventory Control
Menu Customization
Payment Options (debit, credit, digital platforms)
Check Splitting and Multi-Tab support
Kitchen Communication/Management
Sales Promotions and Loyalty Programs
Quick Service vs Full Service POS Systems
Now that you have a better idea of how to read and interpret restaurant POS system reviews, let's take a quick look at two industry leaders and what they have to offer. Again, the focus here is on the level of services provided, and how they relate to the different needs of full service and quick service restaurants. These brief overviews are by no means exhaustive, but they should give you a better idea of the features to watch for in trade reviews and how they apply to your needs as a business owner.
Revel for Quick Service Restaurants
Revel are point-of-sale specialists who have been in the business since 2010. They specialize in iPad based POS systems for the hospitality industry, with a focus on quick service business models. They provide all of the hardware components needed to build your POS system from the ground up, including cash drawers, card readers, printers, scales and iPad interfaces. Set-up is quick an easy, and the intuitive software interface minimizes employee training times. Revel's systems are highly customizable, and are designed to grow with your QSR business. Their software supports all major back office operations, and includes a full accounting suite that can be remotely accessed from any mobile device. Revel systems support multiple menu configurations, online ordering with delivery tracking, all major payment options (including digital platforms), and can be fully integrated with your online presence to enhance ongoing promotions and loyalty programs. Customer support is available 24/7, and via remote troubleshooting most problems can be addressed immediately.
24/7 Hospitality Technology for Full Service Restaurants
24/7 Hospitality Technology are full service restaurant specialists, catering to both fine dining and casual dining establishments. With more than 20 years in the industry, they offer both hardware and software POS solutions for the most demanding business clients. Whether your preference is traditional touch screen displays or mobile tablet interfaces, 24/7 Hospitality Technology can supply the hardware you need to support your business. The firms all-in-one software solutions deliver the necessary tools to improve both front of house and back of house performance, including support for multiple menu configurations, table side ordering, ticket splitting, separate tabs for bar and dining room, and all major payment options. Additional software upgrades are available that support kitchen automation, with an eye towards increasing speed and efficiency, as well as controlling shrinkage and wastage. A full back office suite is included, with more than 200 comprehensive business reports available upon request. Experienced technicians are available 24 hours a day, 365 days a year, to troubleshoot any potential problems.
In conclusion…
Finding the right POS system for your business will take some time, and a fair bit of research on your part. Reviews, both online and in trade magazines, can provide valuable information that will help you come to a sound decision. However, it is important to approach any review with an understanding of what you are looking for in a POS system, and how it will be integrated into your current business model. It's often helpful to make a list of the benefits you expect from a POS system, and to use that as a guide while researching what is available on the market today. Of course, POS system reviews are just one tool in your arsenal, and we at Restaurant POS Central are always available to offer advice and to answer any questions you may have. When it comes time to make your purchase, our representatives are ready to match you with a POS system that will give you the edge you need to succeed in the highly competitive food service industry.