How Restaurants Can Benefit from POS Systems?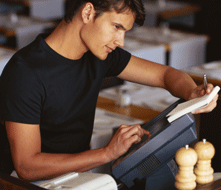 The restaurant business is highly competitive, and one of the keys to success in the industry is customer service. A big part of that is opening up your business to as many customers as possible. If you are running a cash only restaurant, you are missing out on greater potential profits by limiting your customers' payment options. While some small, independent, restaurant concepts like food trucks and sandwich carts may be able to operate with a cash only model, a full service restaurant or a corner cafe is doing itself a very real disservice by refusing alternative methods of payment.
Of course, if you're running a mom-and-pop restaurant you may feel that you cannot afford the merchant fees that are associated with credit and debit card transactions. These can range from 1.5% to 3.0% of the total transaction, and for a small business that is struggling to get off the ground keeping overhead costs under control is always a major concern. But if you limit your restaurant to cash only payments you are routinely turning away customers from your doors, and are effectively missing out on a significant portion of the available market. What you think you're saving on merchant fees you may actually be losing many times over by limiting your access to wider customer base.
The answer to the problem is simple. The introduction of a POS system with simplified credit card payment can dramatically boost daily sales in both full service and quick service establishments. Moreover, a restaurant specific POS system helps to enhance the customer experience, leading to more repeat visits and an ever growing clientele.
6 Benefits of a Restaurant POS System That Will Improve Daily Sales
While the initial cost of a point-of-sale system may seem like too much for a fledgling restaurant, the investment can be worth its weight in gold. A restaurant POS system offers a wide range of benefits that will improve customer service and increase daily sales, far beyond what is possible with a rudimentary cash ticket system.
Open the Door to More Customers: The success of any business relies on a steady influx of customers, and with more and more people abandoning cash for their everyday transactions it is important to keep pace. A restaurant that sticks to a cash only concept is cutting themselves off from a potential increase in traffic. An integrated point-of-sale system will allow you to accommodate more customers, ultimately boosting your daily sales and increasing profits. POS systems are available with both integrated and auxiliary card readers, making it easy to accept credit or debit cards for all transactions. Restaurant POS systems can also be augmented with hand-held devices that allow wait staff to process credit and/or debit cards table-side. With the addition of the necessary software, your POS system can also be set up to accommodate a variety of digital payment platforms such as Apple Pay, Bitcoin, and PayPal.
Quicker Processing of Payments: Time is money in the restaurant industry, particularly for cafes and casual dining establishments in high traffic business or shopping districts. It's important to be able to cash out customers quickly and efficiently, both to accommodate their schedules and to free up tables for waiting patrons. An integrated POS system, with the necessary hardware and software, makes it easy to process credit and debit cards quickly, and avoids a line up at the register. Again, hand-help devices with table-side. Payment software can speed up the process even further.
More Accurate Payment Processing: Another major concern for restaurant owners is accuracy at the checkout point. Simple mistakes cost money, and they can be all too common with handwritten tickets. With a restaurant specific POS system, terminals are connected through a common interface. When your wait staff inputs an order to their work station or via a hand-held device, the ticket becomes accessible at all points throughout the system. As customers check out, their bills will be can be retrieved from the data base, verified, and processed; eliminating potentially costly mistakes and misunderstandings that are so common to handwritten tickets.
Splitting Tickets: When a party wants to split a check at a cash only restaurant it requires some on the spot arithmetic from the wait staff. Hand splitting a ticket, especially for larger parties, can take valuable time away from other customers. Moreover, it can lead to avoidable math errors that can cost your restaurant money. With a restaurant POS system, splitting checks is quick and easy. The advanced software not only simplifies the process, it also allows wait staff to split the check so that each member of the party receives a separate total which they can then pay via their preferred method (cash, credit, debit, or digital platform). Your POS software also ensures that costly errors are eliminated, so no more money is lost to faulty arithmetic.
Prevent Order Errors: Happy customers are more likely to return to your restaurant, and to recommend it to their friends and associates. A big part of keeping your customers happy is ensuring that their orders are accurately prepared and served. With handwritten tickets, confusion between wait staff and kitchen is almost inevitable. Bad handwriting, unfamiliar abbreviations, and messy tickets can lead to unnecessary errors in the kitchen, resulting in mistakes on the line and delays in service. An integrated POS system improves communication between the front of the house and the kitchen, eliminating what can become costly mistakes. When a customer's order is taken and entered into the system (either via a hand-held device or at a front of house work station) the details are sent directly to monitors in the kitchen. Kitchen staff can then print out a hard copy for the line, ensuring that all orders are accurately prepared and ready for pick up in a timely manner. This helps to avoid the often costly misunderstandings that can result from handwritten tickets.
Track Inventory: In the restaurant business there is little margin for error, particularly when it comes to managing your food costs. Waste, theft, and shrinkage can severely cut into any potential profits, so it is vital that management be able to accurately track their on-site inventory and daily usage patterns. Restaurant specific POS systems allow for the real time tracking of inventory, with the dedicated software recording the projected usage of all ingredients as each order comes in and is prepared by the kitchen. This real time tracking increases efficiency, making it easier to avoid the over ordering of perishable product that can so quickly lead to waste. Real time tracking software in POS systems also makes it easy to notify wait staff when specific menu items and daily specials are sold out. Keeping the front of the house running smoothly. But a restaurant POS system can also help eliminate shrinkage, by allowing management to access detailed inventory reports both on-site and remotely through a home PC, tablet, or smartphone. Remote monitoring features are especially helpful in reducing shrinkage and eliminating theft, which is always a major concern for restaurant owners.
Integrating a restaurant specific POS system into your business delivers a wide range of benefits, all of which far outweigh the perceived costs. Here at Restaurant POS Central we are dedicated to helping you find the POS system, and the accompanying software, that will bring those benefits to your business. We work with the most reputable point-of-sale dealers in the industry, and together we can match your business with the best POS system for your restaurant model. Whether it's a casual dining establishment or a corner cafe, we can deliver the POS system you need to increase traffic, enhance your customer service, and boost your bottom line.