Managing POS System Expectations to Find the Best Point-of-Sale Price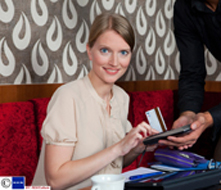 POS system prices can be confusing. Many vendors advertise rock-bottom POS prices that may come with a long list of costly add-ons and upgrades to get the system you're looking for. Some cheap POS systems are even sold refurbished without any backing from a vendor.
Refurbished versus brand-new POS systems
Managing your POS system expectations is the first step to help you find an affordable yet functional point-of-sales system for your business. The truth is that many cheap systems advertised online may not be what they seem at face value.
A low-cost POS may be resold on a third-party website like eBay, meaning that it isn't protected by a vendor warranty and certainly won't come with round-the-clock tech support. A cheap POS may also be sold refurbished, which won't guarantee that all of the hardware components are in working order. A POS system with the potential to break down and without a protective warranty is not what you want to rely on when customers are lining up out the door.
How do you separate the good from the bad when pricing POS systems? It helps to keep in mind that a remarkably low POS price may be misleading. Understanding average POS prices will give you a better idea of what you can expect to pay for a multifunctional POS system in your industry.
Remember, you will get what you pay for. Though it may be tempting to choose the cheapest POS you find online, there is much more to the picture. A POS price should include all hardware and accessories, such as terminals, credit card scanners, printers, and cash drawers; many POS vendors will also lump in consultation, activation, and training within the price package – features that you won't find with a refurbished POS.
What you can expect to pay in average POS prices
A manufacturer refurbished retail POS may sell for $669 on eBay. Though the seller may advertise free shipping to sweeten the deal, the POS won't include vendor activation/training and 24/7 tech support.
A brand-new POS may cost more initially, but it can easily provide a greater value with support from the vendor. Average POS prices may start at:
$2,600 – Estimated for a single POS system.
$3,610 – Estimated for a startup restaurant system with two stations and two kitchen printers.
$3,900 – Estimated for a quick service POS system, including support.
$5,000 – Estimated for two terminals, cash drawers, and printers with POS software included.
$7,229 – Estimated for two terminals, two bar scanners, and a kitchen printer with POS software included.
POS pricing will vary based on a wide range of factors, including vendor, software, hardware, features, and amount of terminals needed. As you price POS systems, it helps to adjust your expectations. A cheap system sold outside of a vendor warranty may sound like a bargain, but it won't offer the long-term support and protection you need to keep your POS up and running.