Choosing the Right POS Components for Your Business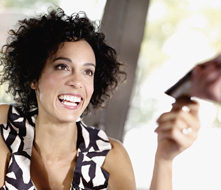 Restaurants, night clubs, and retail shops have different POS system requirements. While there is some general overlap with much of the basic hardware, like monitors, credit card readers and cash drawers, more specific components typically need to be tailored to fit the business model they are supporting. When it comes to point-of-sale systems, and restaurant specific POS systems in particular, one size definitely does not fit all.
Basic POS System Hardware Components
When you begin shopping for a POS system, you'll find that hardware components come in different configurations and packages. Some vendors offer pre-bundled, entry level, POS systems that can be augmented, as needed, with specific hardware upgrades to support a particular business model. Others take a different approach, marketing each component independently, so that clients can build their own POS systems from the ground up. Each approach is valid, and your choice of vendor should be more influenced by the company's knowledge and expertise in your industry than by their particular marketing model. That being said, it's always a good idea to have a cursory understanding of the basic hardware components that make up a state of the art POS system so you can make an informed decision about what you do, and do not, need.
The All-In-One Workstation: Many vendors package POS hardware into an all-in-one workstation. These typically include a monitor, keyboard, cash drawer/register, receipt printer, and credit card scanner. This is an entry level system designed to meet the basic needs of most retail establishments. Additional hardware can be added to customize the system for specific business models. The initial cost of an all-in-one workstation varies greatly, ranging anywhere from several hundred dollars to upwards of $2,000.
Back-Office Server: The back-office server is the core of your POS system. It is here that all of your system's data is stored and managed, and it is via the back-office server that you are able to configure your POS system, control its settings, and handle the day-to-day management operations (accounting, billing & receiving, HR, etc). The cost of your back-office server will depend on processing speeds, data capacity, and choice of computer operating system.
Monitors: POS monitors are available in both standard and touch screen models. Touch screen monitors are generally preferred, as they eliminate the need for a separate keyboard and mouse while maximizing the use of limited space. Touch screen monitors are generally better suited for restaurant work as they support the use of on-screen menus, simplifying the ordering process and making it much more accurate and efficient. Monitor costs typically range from $200 to $500, depending on make, model and screen size.
Keyboard: A keyboard can work with, or without, a touch screen monitor for basic data input. Front of the house workstations and kitchen terminals, if touch screen enabled, generally do not require keyboards. However, management will at least need a basic keyboard interface for the back office to handle day-to-day business operations. Keyboards are the least expensive POS components, and can be had for under $100.
Customer Displays: Customer displays are available in both pole-display and monitor styled models. They not only allow customers to view their in-progress orders, but more advanced models can be used for on-the-spot advertising and upselling. Basic customer displays typically run from between $100 and $300.
Barcode Scanners: Barcode scanners are typically sold as separate upgrades to a basic POS system. They come in both hand-held and counter-top models, and can greatly improve check-out times in busy retail environments. Barcode scanners vary greatly in price depending on the choice of hand-held or table-top models running anywhere from $50 to more than $350.
Cash Drawer: Cash drawers are, of course, vital components of any POS system. They come in a variety of sizes, depending on the number of bill and coin slots desired. Ideally, your cash drawer should be fully integrated into your POS system to be triggered by the receipt printer when a transaction has been completed. Basic cash drawers can cost between $100 and $200, though you will often find them bundled with credit card readers and receipt printers to form complete check-out kits running upwards of $600.
Receipt Printers: Every customer who makes a purchase should be given a receipt, and a dedicated printer simplifies this process. Receipt printers are available in both wired and wireless models, and using wither impact or thermal printing technology. Printer costs vary greatly depending on the complexity of the hardware. Basic wired models are available for between $100 and $200. More advanced Wi-Fi and Bluetooth enabled models can cost upwards of $600 to $700.
Credit Card Readers: Also known as magnetic stripe readers (MSR), these are needed to swipe credit and debit cards. They can also be programmed to read customer loyalty cards, gift cards, and employee ID cards. Credit card scanners are available either as fully integrated components of a POS system, or as standalone additions. Basic models can be purchased for as little as $75, though fully integrated models can run upwards of $200.
PIN Pad: PIN pad point-of-sale devices allow customers to input PIN numbers for ATM and debit cards. They are also commonly found in supermarkets that accept EBT food stamps where customers are required to input an identification code to complete a purchase. Basic PIN pads that can be connected to a card reader typically cost between $100 and $300 depending on make, model and features. PIN pads are also available as fully integrated components on some credit card readers, with units costing as much as $800.
Electronic Signature Capture Device: Business owners who prefer to avoid the need for a separate credit card printer may opt to add an electronic signature capturing device to their POS system's components. This allows customers to sign for a purchase electronically, eliminating the need for paper copies. Electronic Signature Capture Devices can run from $100 to $400, with the higher end units offering greater sensitivity and better performance.
Check Readers: While there has been a definite mover towards ATM and debit cards, many customers do still prefer to physically write checks for their purchases. A check reader is an optional POS component that can scan and process a check using Magnetic Ink Character Recognition (MICR). This greatly speeds up the process of accepting checks, particularly in busy retail establishments. Check readers are generally sold as standalone units, although you will sometimes find them incorporated into more fully featured credit card scanners. Standalone check readers retail for between $200 and $400.
Industry Specific POS Hardware Components
While many components in a POS system can be common to all, or most, business establishments, restaurants have some very specific needs that can only be satisfied by very specific hardware. The following components address the point-of-sale demands of the food service industry, and should be seriously considered when building a restaurant specific POS system.
Tablet POS Monitors: In busy restaurant environments, it can be beneficial to supply staff with POS tablets to allow for tableside ordering and payment processing. Orders placed via tablet are immediately sent to the back of the house, and all payments are relayed through the main POS system to facilitate faster checkout. The price of tablet monitors for restaurant POS systems start at around $800, and can run as high as $1500 depending on make, model, processing power, and memory capacity.
Kitchen Displays: Kitchen Displays are an integral part of a restaurant POS system, particularly for larger establishments with a clear demarcation between the front and back of the house. When orders are entered into the system by your waitstaff, they are relayed directly to the kitchen displays/monitors to be filled by the cooking staff. Kitchen displays typically cost between $200 and $400 per unit.
Order/Ticket Printers: For larger kitchens it can be beneficial to have remote printers installed to speed up production on the line. When orders are entered into the system and relayed to the kitchen, they can be sorted according to prep station and printed out to ensure that they are filled accurately and in a timely manner. Remote order/ticket printers can also be used to relay drink orders to a restaurant bar, to be readied for pick-up by the waitstaff. Remote order/ticket printers are relatively inexpensive, costing between $150 and $300 per unit.
Weight Scales: Weight scales can be used to measure produce and dry goods, and when integrated into a restaurant POS system help to maintain portion control in the kitchen. This reduces waste and maximizes the return on food costs. Weight scales are particularly valuable additions in large scale restaurants where the head chef is dependent upon the accuracy of prep chefs and line cooks to maintain portion control and food usage patterns. They are also recommended for delis and sandwich shops where portion control is so tightly linked to profits. The price of weight scales that can be integrated into a restaurant POS system start at around $250 and run upwards of $500 and $600 depending on the available features.
Mobile Payment Options: Mobile payment options encompass both hardware and software solutions. Mobile card readers are available to make tableside processing of transactions fast and easy, and most current models support both traditional swipe cards as well as the new chip and pin technology. In many cases, basic mobile card readers for restaurant service can be purchased for less than $100 per unit. Restaurants utilizing tablet POS interfaces can further expand their mobile payment options with the addition of software that supports digital payment platforms like Apple Pay, Bitcoin, and PayPal.
Fingerprint ID Readers: Fingerprint ID readers are not necessarily restaurant specific, though they do offer the type of greater security often needed at restaurant cash registers and full liquor bars. Using a fingerprint ID scanner, employee access to sensitive POS terminals, and specific functions on those terminals, can be restricted to authorized personnel only. Fingerprint ID readers are easily integrated into an existing POS system, with prices starting at around $80 to $100.
Building Your Own Restaurant Specific POS System
Just as every restaurant is different in both size and clientele, so every POS system will be different in cost and complexity. Larger, full service restaurants will demand a greater number of support features than smaller, more streamlined, establishments. For example:
Full Service Restaurants: Large full service restaurants will need a POS system that fully supports both the front and back of house operations. A suitable POS system should include most, if not all, of the following hardware:
Back-Office server with monitor and keyboard.
Monitors and customer displays at all point of sale areas on the floor.
Multiple cash drawers with integrated card readers and receipt printers.
Multiple Kitchen and bar displays with integrated order/ticket printers.
Weight scales for proper portion control (both kitchen and bar if applicable).
Mobile payment devices/support.
Quick Serve Restaurants: Quick serve restaurants typically operate with a smaller staff, and with a more direct line of communication between the point of customer interaction and kitchen. As such, their POS needs are slightly different than those of a full service establishment.
Back-Office server with monitor and keyboard.
Monitor and customer display at the primary point of sale.
Cash drawer with integrated card reader and receipt printer.
Kitchen display (optional but recommended).
Weight scales for portion control (optional).
Understanding your POS hardware needs will help you to choose a system that fully supports your business model and makes it possible to meet all of your operational needs. While both restaurants and retail shops can definitely benefit from an integrated POS system, industry specific hardware components are particularly important for food service establishments where success depends upon delivering the highest levels of customer service. When the time comes to start shopping for a new POS system for your restaurant, take the time to consider the hardware components you need to fully support your unique business model.