Restaurant POS Software and Hardware Purchasing Guide
Point-of-sale (POS) systems have become the central technology for cost-effectiveness in the restaurant and hospitality industries. Typically including a proprietary software platform, hard drive, cash drawer, receipt printer, monitor, and a keyboard, scanner or similar input device, the concept itself is not new to food service. But the way in which the systems have evolved is.
Now leveraging the cost-cutting benefits of software and mobile technology, restaurant POS systems simplify orders and payment, track transactions, maximize floor space, and generate detailed reports that allow you to make informed business decisions in real-time.
Benefits of a restaurant POS
In short, the goal of any POS system is to boost sales and profitability. With that in mind, the restaurant variation provides a number of specific benefits to a food service operation. Chief among them are speed, accuracy, and profitability.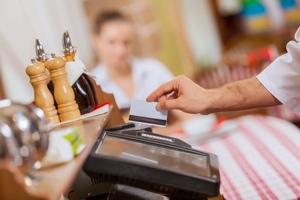 Food service POS systems enable you to service more customers by serving them faster. They simplify order management by linking the cash register and kitchen (or front and back of the house) – no more handwritten orders in indecipherable lettering or even computer printed tickets for that matter. Orders are clearly displayed on a monitor, typically installed right by the grill. Plus, by preventing your servers from running from the table to the kitchen or even from the table to a centralized order station, you shave substantial time off of each customer interaction, improving service and your bottom line.
That's why so many restaurateurs are looking to incorporate mobile technology into their operation – 70% according to a recent survey – a fact we'll examine in more detail in the sections that follow.
Importance of a quality supplier
POS system shutdowns often result in unhappy customers and lost revenue, which is why it's essential to have the service and support of a reliable supplier who can minimize (or ideally help you avoid) downtime. This need elevates the reputation and support of the POS supplier to among the top of your purchase considerations.
In particular, POS suppliers should offer 24/7 phone or electronic support. This process usually enables them to immediately diagnose problems over the phone or via the web, resolving many basic problems remotely. You may want to consider giving preference to sellers that provide 24/7 support, as peak business tends to occur outside normal business hours for most restaurants, bars, and other hospitality operations.
Local field technicians are another primary benefit of a quality POS supplier. When technical problems can't be resolved remotely, a supplier will send a field service technician who travels to your location and makes the necessary repairs, usually within a short window of time. If they're unable to fix the problem on site, they'll often install loaner equipment that can keep your business running until a solution is found or repairs are complete.
When considering POS suppliers, be sure to ask about guaranteed time allocation for site repairs and replacement policies, as well as all guarantees related to parts and labor and any fees associated with service and support. We've made it easy to connect with suppliers in your area, click to learn more.
To get started, let's take a look at the top tier consideration when installing or upgrading a restaurant POS system, software, and in particular the two types: locally-hosted and cloud-based.
Software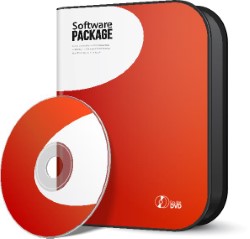 The central aspect that ties all the hardware components together (and enables them to operate efficiently), tracks business data, and provides cost-efficiencies through comprehensive reporting is the restaurant POS software platform.
Each system is proprietary to its supplier and provides a number of tailored functions for every niche it's designed for. In general, there are two main types of POS software: on-site, installed on the physical hard drives at your location, and SaaS (software as a service), a web-based or "hosted" option that allows you to access your POS system via the Internet. There are benefits and drawbacks to both, often unique to each application. Here's how the two compare.
Locally-hosted/On-site POS Software
If you have a single location and require a limited number of terminals, an on-site solution may be the way to go. Cost-effective within this type of environment, it provides a full POS system including: inventory control, customer tracking, credit card processing, delivery sales reporting, gift card management, business software integration (i.e. QuickBooks), and an easy-to-use interface, all for a one-time licensing fee. It's worth noting that new versions of the software and extra upgrades may incur additional service fees.
System requirements change with each generation of software. Currently, most quality restaurant POS systems require one of the following operating systems: Win7 Pro, Win7 Enterprise, Win7 Ultimate, Windows Server 2008 R2, POSReady 2009, POSReady 7, or Windows 8. Minimum screen resolution is typically 1024 x 768 pixels. And supported peripheral devices are often limited to serial printers, Ethernet IP printers, USB barcode scanners, serial pole displays, serial scales, and coin dispensers. Though some suppliers may offer additional peripherals for specialized applications.
Expect to pay: $300 to $1,200 for the initial license and $400 to $600 for each additional terminal
The primary concern for this type of system is data backup. If your local hard drive crashes, you stand to lose some or all of your business data if the drive is corrupted or unrecoverable. This can include sales and transaction records, stock levels and reorder tracking, gift card balances, and even your menu. So to ensure the continued operation of your business processes, an on-site POS system is usually backed up either to a local device or off-site, cloud-based service.
If backed up locally, options include: (1) records manually burned to CD-RW or DVD-RW, (2) a single backup drive that continuously monitors and stores copies of the files on your hard drive, or (3) a redundant array of independent disks (RAID), an interconnected system of disk drive components that backs up data while reducing the risk of disk failure.
The advantage to on-site backup is that it does not require an Internet connection and, like the original drive, it's a one-time purchase. The downside is that local backups are just as susceptible to fire, earthquakes, floods, and other natural disasters as your primary hard drives and can be lost just as easily as the original business data.
The other backup option is cloud-based. Hosted through a web-based provider, these systems allow you to store all of your data and recover it from any location that has access to the web. This option also allows you to share data between multiple devices, including the drives at your physical location as well as mobile devices like smartphones, tablets, and laptops. You are given a set amount of storage capacity and pay a monthly fee (with no contract) to continue using the service. Popular off-site backup providers include:
Google Drive – First 15 GB free; $2 to $300 per month for a variety of storage allocations after that
Drop Box – First 2 GB free; $9.99 per user per month for 100 GB, or $15 per user per month for unlimited storage
Market segmentation: which POS platform is right for you?
Unlike standardized POS technology geared toward retail, restaurant POS software is specifically designed for the needs of food service. Within that niche, platforms are often further segmented to handle the unique day-to-day tasks associated with particular applications. These differences are addressed through software customizations engineered for each market segment, minimizing confusion for servers and kitchen staff by displaying only the relevant business information for their particular task.
For example:
Bakeries
With a variety of products that are similar yet unique (such as baked goods with or without nuts, flour variations, and gluten free options), bakery POS systems are often designed to enable the user to customize the screen, simplifying the appearance and operation for staff and customers.
Bars, lounges, and pubs
By easily connecting pour spouts to a bar POS system, you can track keg status and manage your inventory with each pour. Plus, many include a feature that quickly verifies a customer's age, often by simply scanning the barcode on the back of a driver's license.
Cafés and delis
Cafés and delis frequently employ a number of part-time waitstaff that come and go throughout the day. A café POS system keeps track of their timecards, break periods, and alerts restaurant owners to any violations of meal and rest break compliance. Plus, the inventory management feature allows you to load shipments and deliveries, easily printing a to-go ticket for each customer.
Fast food
Few operations in this niche have reaped greater benefits than fast food restaurants. Linking every aspect of a store in real-time, orders are transmitted from the cash register to screens in the kitchen, saving paper by preventing the physical printing of an order ticket while ensuring accuracy.
Food trucks
Including the same inventory management and order tracking features as any other restaurant POS system, food truck setups offer another major benefit: they tap into wireless technology, allowing your operation to accept credit cards from any geographic location with mobile service.
Full service
Created to streamline the guest experience, POS systems designed for sit down table service optimize communication to deliver exact meal timing. They also integrate gift card options and split ticket functionality. Plus, if you serve specialty cuisine, like Japanese or French, orders are easily taken in the originating language, with tickets and receipts printed to reflect the same.
Takeout and deliveries
POS systems designed for pizza and similar restaurants that offer home or business delivery include customized fields that store a customer's past order information. They also provide the ability to offer online ordering, linking customers to your store's system and greatly simplifying the order process – both for customers and restaurant staff alike.
BUYING TIP: Keep in mind that simplicity equals speed. So when evaluating different software platforms, give weight to those with simple interfaces that require little effort and training to use (icon-based systems are best). Also make sure the supplier provides at least 1 to 2 hours of training on the platform to ensure your staff is completely comfortable with it. Note: some provide unlimited phone support and web-based training for this purpose.
Find out how to connect with software manufacturers here.
Once you've selected the best software platform, the next step is to pair it with hardware components that will make the most of the system. Here are some of the most common.
Hardware
Though each POS system will ideally be tailored to the specifics of your restaurant, the hardware is pretty much the same across the board. All systems include a combination of the following components.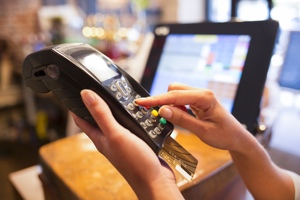 With modern technology, this has become one of the most user-friendly aspects of a restaurant POS system. There are three options: monitors with programmable keyboards, stationary touch screens, and mobile/handheld terminals. A good system will support both stationary and mobile input devices. Most businesses choose touch screens and, in particular, touch screens that use the growing familiarity of the iPad.
The reason for this change is two-fold. First, touch screens are more intuitive to use than keyboards for many users, and provide easier, faster navigation through the use of pictures and icons. They also provide more flexibility in user interface and programming, allowing for a multi-step process to take place with the selection of a single on-screen icon – split ticket for example.
Some systems use standard keyboards, while others have POS-specific keyboards, such as the flat-panel membrane keyboards common in fast food outlets. Plus, many POS keyboards come with built-in magnetic stripe readers for processing credit cards. The one thing to be aware of is options related to spill- and dust-proofing – this can save costly equipment in areas where items may spill or be subjected to salt and other loose ingredients.
Handheld terminals are wireless and run on a local network that taps into your POS system. As orders are taken and payments are made, each handheld terminal wirelessly transmits the data to a base station where it's processed through your POS. This technology has been shown to deliver unique cost-savings for restaurants by increasing the amount of time servers spend on the floor interacting with customers while decreasing the time required for each customer-related task. Options include standard setups that use icons for tasks and menu items as well as "write-on" handhelds that enable servers to simply write the orders down where they're then translated by handwriting recognition software.
Expect to pay: $800 to $1,500 for a standalone terminal.
Cash drawers
Despite the prevalence of credit cards used for payment, cash drawers are still an essential component to safely store cash, credit card slips, coupons, and gift certificates. Sturdiness is paramount, so look for 18-gauge steel at minimum. Life expectancy is measured in the millions of cycles, so they last quite a while. But you may need to eventually replace the rollers, bearings, and other parts in bar areas and other high-traffic locations.
Expect to pay: $250 to $500 for a dual cash drawer.
Order ticket and receipt printers
Though the industry is moving more and more toward paperless operation, printed order tickets and receipts are still predominantly the preferred method. For this task, receipt printers create credit card slips and receipts for customers and send orders to kitchen and bar staff. Thermal technology is fast, quiet, and generally reliable, offering modern designs that require minimum counter space and are heat-resistant. They also support all leading operating systems and include features like multiple font sizes, order buzzers, a "page mode" that allows printing on any part of the receipt, an easy-to-operate touch panel, and automatic paper eject function.
Expect to pay: $225 to $340 for receipt and kitchen printers.
Kitchen displays
Those looking to save paper, and the resulting confusion in the kitchen, have moved to kitchen monitors that display orders in a user-configured layout. Unlike a printed ticket, these systems enable kitchen staff to review all aspects of order preparation, speed of service, and reporting and statistics, including time spent on prep at each station. Similar to a standard terminal, they use either color touchscreen monitors or color monitors and a "breakaway bump bar," a separate input device that allows a user to recall order information when a monitor is installed out of reach.
Expect to pay: $200 to $530 for the monitor (ranging in size from 21″ to 39″) and $75 to $95 for articulating or wall mount.
Coin dispensers
Delis, fast food locations, and cafeteria-style restaurants find coin dispensers indispensible. Dramatically cutting down on the length of each transaction, they save employees from having to count change – a task shown to result in cash overages and shortages at the end of a shift. Popular models are compatible with most systems (including iPad) and integrate seamlessly with all other POS hardware. Designed compact and lightweight to suit any environment, POS coin dispensers come in a variety of sleek design and color options, with quality models capable of supporting at least 200 transactions.
Expect to pay: $1,000 to $1,200 for the dispenser and about $200 for a spare canister.
Back office functionality
Interconnecting all aspects of a restaurant POS system through a hard-wired or wireless network, back office systems are evaluated by the time they save owners and management. Fully user-defined and programmable, back office functions include forecasting and planning, cash management, human resources, time and attendance, labor, inventory, and comprehensive reporting features. Though technically a software component, this is one of the major purchase considerations in a restaurant POS system as all hardware has to be compatible with the platform for it to function effectively.
BUYING TIP:Look to purchase an entire system from a single supplier. You'll ensure the compatibility of the components and have a reliable source for parts and service when the time comes.
The best POS solutions are customizable, not pre-packaged – especially when you're planning for growth or seasonal business. So here are three of the most cost-effective features to look for, and a few extras that can help you save time and expedite service.
Technology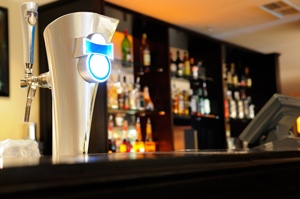 Technology is quickly evolving for two reasons: (1) to provide better customer service and (2) to assist business owners in improving the efficiency and profitability of their business. To do so, the core focus of technology is on customization, creating unique packages that provide user-definable features and functions, specific to every niche. With this in mind, be on the lookout for restaurant POS systems that are:
Adaptable – Your POS should change with your business needs and be easily scalable, accepting new guidelines for operations as well as reporting for a single location or throughout your chain.
Modular – Quality solutions are capable of integrating new applications and hardware with minimal IT configuration.
Usable – Even the most advanced software platforms have to be straightforward. Look for ergonomic features tailored to each environment and equipment and software that requires a minimum of training.
With the above considerations in mind, some of the most popular technical advancements in restaurant POS systems are geared to address the following issues:
Time and attendance
Easily monitor employee time clocks and required meal periods while managing scheduling, new hires, transfers, and terminations. Also allows you to track and control labor costs by calculating the cost of labor required for standard operations and special events.
Online reservations and ordering
For web-based restaurants, online booking and ordering provides an easy way for your customers to plan ahead and order a takeout meal, all but eliminating the wait time at your location or on the phone. It also simplifies payment on your end, with the customer's credit card data on file and often processed automatically by the system before the order is transmitted to the kitchen. Plus, online orders have the potential for upsell, reportedly 15% to 20% higher than the same order taken by phone in some cases.
Table layout/dining room layout
Table service functions allow your hostess and management to monitor table status from the POS, splitting up the different sections of your restaurant by room and floor and allocating each section to a particular server, easily monitoring their speed and efficiency. Fully customizable, this feature offers different screens for different dining areas and is able to accommodate any physical floor plan.
Ability to automatically set menu prices
As prices, menus, portions, and individual items change from lunch to dinner and even within the meal period (i.e. happy hour), each menu item can have a unique price point attached to it that the POS system automatically changes to reflect current and accurate pricing.
Kitchen and inventory management
This function not only simplifies (and even automates) the reorder process, it simultaneously alerts servers, kitchen staff, and management when an item or necessary ingredient is sold out.
Split ticket and customer loyalty/tracking
Hospitality POS systems simplify the process of splitting a bill. The split ticket function is extremely useful in bars, pubs, cafés, and other food service operations where large groups of people gather before, during, and after work. They further help monitor table status and even support VIP and frequent diner programs that keeps tabs on your customers, the frequency with which they visit your location, and what they order.
Tableside ordering and payments
POS systems allow servers to take orders and input them in the system while standing right in front of the customer. This helps ensure order accuracy and also promotes the upsell of deserts and additional beverages. Customers can also pay by credit card right there at the table, a process that dramatically expedites the checkout line. It also encourages sales in areas where customers may not have access to an ATM or may not be willing to pay the associated fees for withdrawing cash.
Mobile efficiency
Now the dominant force in restaurant POS systems, mobile technology and iPad menus deliver the same POS functionalities and simplicity to an exterior location, like a food truck, satellite, or patio location, as previously achieved through a hardwired system. They also provide a wide range of time and cost-saving benefits within a standard eatery including digital menus that replace outdated printed copies, menus that are uploaded to the system for easy server input, increased accuracy, expedited payment (often right at the table), and information on daily specials and wine lists. Mobile devices can also provide nutritional and ingredient information for customers who request it.
Mobile technology is big. And according to a recent poll, it's going to increase dramatically in the coming months and years. That trend also necessitates an increase in another type of technology as well. Make sure to factor the following into your purchase decision.
Trends
As mobile technology continues to find its way into every aspect of modern living, restaurants are overwhelmingly adopting it as a means to connect with and better service their customers. In fact, when asked about the most significant motivator in upgrading their POS, almost 70% of restaurant owners cited "adding a mobile POS" as the primary reason – this according to a recent article that appeared in Hospitality Technology, the only trade publication dedicated exclusively to technology in lodging and foodservice.
The article went on to say that "62.5% chose 'enabling new payment options,'" and "almost half of restaurants surveyed (46.4%) named 'delivering personalized guest promotions' as a major objective" for the incorporation of a modern POS system.
Increased security
With mobile technology comes an increase in the need for security, especially when those mobile gadgets process credit card information. So along with the spike in mobile connectivity there's a need for security protocols that comply with the Payment Card Industry-Data Security Standards (PCI-DSS). This organization (comprised of all five global payment brands: American Express, Discover, JCB International, MasterCard, and Visa), established these standards to ensure the secure storage and handling of credit-card information.
As a result, all restaurant POS systems must incorporate elements within their payment systems that are compliant with the PCI-DSS standard. Within this setup, the POS system does not retain full magnetic stripe, card verification code, or PIN block data. It also logs payment application activity and provides enhanced protection for authentication and wireless transmissions. Encryption is provided for sensitive data sent over public networks as well as any non-console administrative access. And finally, cardholder data is not stored on servers that connect to the Internet.
To learn more about the standards, visit PCI Security Standards Council on the web, or connect with POS software and hardware dealers in your area.