iPad Based POS Systems Meet The Needs Of Any Type Of Restaurant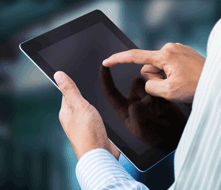 When the first iPad was released back in January 2010, most people perceived it as Apple's answer to the technically handicapped and short-lived netbook form factor, intended primarily as a notebook replacement for users with modest processing and storage capacity. As it turned out, the iPad's capabilities, particularly when running apps that are sufficiently clean, intuitive, and secure to pass Apple's required certification, far surpassed those of the netbooks. With the emerging popularity of secure, cloud-based storage, the iPad has managed to assume the role as replacement for notebooks and even desktop workstations in all but the most demanding of applications. It didn't take long for businesses to recognize its potential as an integral part of their POS systems. Restaurants have discovered the advantage of the iPad in the hands of food service personnel or even at table-side, for customers to select, input, and even pay for their orders without having to wait for a server to arrive at their table.
By using a POS system with the iPad as a core design element, data entry errors are minimized due to the tablet's widely familiar, user-friendly interface. Payment processing is simplified, and restaurateurs are able to monitor virtually all phases of customer transactions, from making reservations to paying the tab. In addition, the systems can help managers monitor server and kitchen performance and efficiency, portion control, and staffing requirements, while at the same time providing an avenue for customer comments. Perhaps the best part is that iPad POS systems offer more widespread familiarity with the operating systems and hardware than their more expensive counterparts, based on less popular devices, can hope to provide.
Naturally, different types of food service operations each have their own unique hardware and software requirements, from a single tablet and app to a system including tablets for greeters, wait staff, kitchen and prep line personnel, and one or more fixed workstations for restaurant and bar cashiers. There are a significant number of providers offering customizable iPad POS systems tailored to meet the requirements of each. Here are a few examples of these different requirements.
Full Service Restaurants/Bars (FSR)
These require the ability to input and share information between multiple sources, both fixed and mobile, including reservations, greeters, wait staff, bar personnel, kitchen, and cashier. Particularly when serving larger groups, the ability to easily perform accurate tab-splitting and individual prep timing is essential. The ideal system will readily incorporate happy hour and quantity / time-limited dining specials, to minimize overselling of limited quantity or 86ed items. Such systems must provide the information to onsite and, if appropriate, corporate management via the cloud for process analysis and improvement, as well as future scheduling and planning.
Quick Service Restaurants (QSR) Including Dine In, Takeout, or Delivery Only
These all require the ability to relay input from front counter, call-in, and online orders, directly to the food prep line as well as the cashier or online cart. Food item customization requests are flagged on individual orders, with the total tab adjusted, if appropriate, while minimizing or eliminating errors. Shift managers are provided with the ability to closely monitor timing and efficiency, while general managers can use the collected information to evaluate the efficiency of individual positions and personnel, monitor portion control, and keep track of staffing levels. In the case of multiple locations, area or district managers are provided with the means to evaluate and compare each location's overall performance, cost percentage of sales, and periodic and seasonal sales and ordering/dining trends.
Food Trucks
These typically operate from a single data collection point, keeping track of open orders, turnaround time, and total sales. Displayed information can be limited to register mode at the point of customer contact or pending orders mode on a single iPad, or shared between tablets at the customer contact and food prep areas, to expedite both order processing and food prep while eliminating the need for a discrete cash register. The information collected, including individual transaction processing via cash, credit/debit card, or gift card, is generally relayed via Wifi or cellular connections, and logged to a cloud-based server, to assist management in evaluating sales levels, time/performance trends, and detailed prep costs for both single and multiple truck operations.
Which one is best for you?
One of a number of iPad POS system suppliers is TouchBistro, which offers systems for each type of food service outlet, customized to the individual customer's needs and budget. In addition to hardware costs, which can range anywhere from the cost of a single iPad to multiple tablets, registers, kitchen and prep line input/display devices, and communications equipment, the monthly cost for the system software runs from $49/month for a single license to $399 for an unlimited number of licenses. Cloud server costs are relatively low, but also varied according to the amount of storage required.
If you are tired of errors, or having to effectively manage your restaurant or restaurants on inadequate or sketchy information, and you want to increase the efficiency and profitability of your restaurant, contact one of our representatives, and we will help you find the iPad POS system that will best serve to get your operation running smoothly, and at a cost that is within your business' budget.