Using POS systems in Menus: The Future of Restaurants?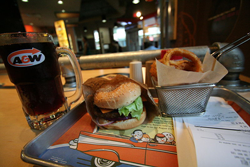 A point-of-sale system built into a restaurant menu — a feature that will make for faster, more efficient orders — will revolutionize the food service industry. By allowing customers to place their own orders and make payments at their table, a POS menu provides complete usability and increased functionality for food service staff as well as customers.
Whether you're operating one restaurant or several, be it full-service or fast food, the menu system can often be customized to meet your particular needs. Used to place orders, the system makes communications between the kitchen and the waitstaff more effective.
Error reduction is one of the most important benefits of using a menu. Waiters can see clear, precise readouts of the orders before meals are sent out, greatly decreasing the number of incorrect orders sent to the kitchen. Once an order has been submitted, it's easy to make changes such as canceling items or adding a coupon.
Additional benefits of POS systems include:
Improved communication. The system can be used to clock in employees, as well as to generate payroll and as a source of company news and other important messages.
Inventory-tracking systems. The system tracks things like food usage, and lets staff know which items are running low. You can also put a count on an item that has been ordered and automatically remove it from inventory once it's no longer available.
Return on investment. The system helps reduce fraud, theft, and waste from voids.
Streamline bookkeeping. With so much information consolidated into a single POS system, payroll and cost data are easily accessible. This makes bookkeeping faster and more efficient, so you won't need to hire extra personnel and can spend less time managing costs.
As with any system, however, converting to this type of POS requires some maintenance considerations. A menu POS is essentially a computer system, so be aware of the risk of system crash or failure that could mean lost orders, or the loss of important data such as profit and loss statements, payroll, and other records. Just as with a personal or business computer, you need to have safeguards in place to prevent problems, as well as backups for the data your system records. You may also have to update software and replace parts, so consider purchasing a warranty with any new POS menu system to protect yourself against unforeseen system failures.
With the right precautions in place, a POS menu system can be a significant upgrade to your restaurant — both by impressing customers, and keeping back-office functions running smoothly.