The Benefits of a Table Service POS System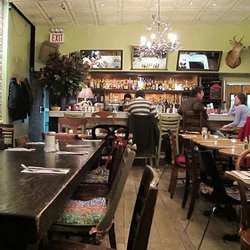 Are you doing everything you can to create a memorable customer experience in your table service restaurant? The right technology can boost your efforts to manage your dining room and keep your customers – as well as your employees – happy.
The Unique Needs of Table Service Restaurants
While a quick serve restaurant (QSR) is all about expediency, the focus of a full service restaurant (FSR) is on customer service. It's not that QSR owners don't care about customer service, but successful FSR establishments elevate it to an art form. Everything from quality of food and drink to ambience requires careful attention to detail. And while all types of restaurants can benefit from a state of the art point-of-sale (POS) system, full-service restaurants have unique needs for POS systems that are specifically geared to table service and dining room management.
A good table service POS system can greatly improve the customer's experience and make the staff's jobs easier at the same time. Table service POS systems offer benefits for team members at both the front and back of the house, giving your staff the ability to focus more on the customer. Everybody wins. Here are some of the benefits of a POS system for a table service restaurant.
Improved communication: The dreaded "failure to communicate" has resulted in many restaurant horror stories. A table service POS can prevent the horror by enhancing communication between waitstaff and kitchen, as well as between you and your staff. Improved communications can help avoid many problems, such as running out of a desired menu offering. Telling a customer a menu item is no longer available looks unprofessional and leaves a bad taste long after dinner ends. The enhanced inventory system in a POS (see next item) can create a low count for menu items and keep the kitchen and waitstaff on the same page. A POS system also allows servers to communicate with the kitchen for many purposes, such as "firing" tickets in advance, so the chef can begin preparing a table's second course. POS systems with tableside service enable your wait staff to enter orders into the system directly from the table, ensuring accuracy and speed, as orders are sent instantly from the table to the kitchen. With tableside ordering your waitstaff is given more freedom to upsell and cross-sell. They're able to spend more time with patrons, improving customer service.A good POS system has dining management tools that help you monitor your staff and communicate with them. For instance, some systems allow you to program "alarms," based upon specific conditions, to help improve staff efficiency. An alarm might go off if a table server fails to attend to a table within a certain period of time or if they need to clear a table. You can notify the server and get the problem corrected before customers begin complaining. This improved communication allows everyone to turn tables faster and generate more revenue per seat every night your restaurant is open.
Better cost control: Both floor managers and kitchen employees need an efficient inventory system to keep costs down. A table service POS system can prevent ingredient shortages for best-selling menu items, as well as the opposite problem: excess inventory that spoils before it is used. By streamlining the process for ordering, receiving and entering inventory, your kitchen will waste less food. A table service POS allows you to print out clear reports of menu items ordered, broken down by appetizer, entree, dessert, and any other category you have. Likewise, the bar manager can hold off on ordering expensive liquors when it is clear the margins are not attractive. As well, it is important to prevent loss resulting from employees over-pouring or otherwise being wasteful. A POS system performs the crucial functions of inventory management and loss prevention faster and more accurately than old-school methods, and the system can be programmed to alert management and owners to trouble areas so they can be addressed before problems get out of hand. While most of these issues may seem like "back-of-the-house" concerns, they ultimately affect the "front of the house" and are vital for proper dining room management.
Smoother reservations and seating process: A major aspect of dining room management is ensuring that reservations and seating are handled smoothly. The old manual methods of processing reservations, wait lists, and seating are inefficient and error-prone. One mix-up on the part of the reservations taker, the host or the server could cost you business and something even more precious: the good will of your customers. The table management component of your POS can prevent problems such as double-booking tables, accepting too many reservations for a specific time slot, or seating customers whose names are on the waitlist in the wrong order because nobody was keeping track of the order in which diners arrived. You can also quickly determine table status by looking at the appropriate table service POS screen rather than sending an employee to find out whether a particular table has been vacated and properly prepared for new customers. The result is that customers are seated faster, and their dining experience is off to a great beginning.
Faster, more secure payment processing: Checking out customers quickly and securely is another major benefit of a table service POS system. Keeping the customers moving is crucial to maximizing a dining room's profitability, but it's also important to pay attention to your customers' concerns throughout the process. For example, with a table service POS that allows effortless ticket splitting, you won't have waitstaff struggling to split checks while a table is ready to leave. If there's an error in processing a payment, waitstaff can void payments and show customers the proof of cancellation, assuring your guests that accuracy and security are important to your business. And a POS system that offers tableside service allows waitstaff to accept payments right at the table. Since the payment card never leaves the customer's sight, customers feel more secure. Your customers' dining experience does not end until they walk out the door, and the payment process is part of that experience.
Happier customers: Customer satisfaction is the ultimate goal of every restaurateur – and the best way to ensure customers will return is to make them happy during every aspect of the dining process. A POS system with dining room management capabilities can help your team achieve this goal. From a faster ordering system to delivery of second courses and payment, your front-of-the-house team has many options for satisfying customers throughout the meal. More efficient ordering and bookkeeping give your staff more time to communicate with guests and make them feel at home. It's the recipe for getting them to return.
A restaurant POS gives your team the technology to deliver efficient service while keeping costs under control. In the end, both staff and customers will be happy you got on board.
Finding the Best Table Service POS For Your Restaurant
Within the broad category of table service restaurants there are dozens of sub-categories, with no uniform solution for all. The best dining room management solution for you depends upon the size and layout of your operation, the number of locations, your volume of business, and several other factors, including your goals and vision for your restaurant. Here are two possibilities to consider. Keep in mind that specifications and prices are always subject to change, so be sure to check with your POS system provider.
Lavu was designed exclusively for the food-service industry, and its iPad based POS is suitable for both single and multi-location restaurants. Lavu's table management features accommodate specific multi-room table layout as well as the ability to assign both seat and course numbers. In addition it offers all of the other features necessary for managing a dining room, including course and menu management, payment features, inventory and cash management, and more. Price varies depending upon the service level you choose. Also note that Lavu is exclusively a software company, but they have specific recommendations for hardware such as iPads and peripherals, available on their web site or through your POS provider.
Breadcrumb is an easy-to-use, low-cost POS iPad-based solution with table management features that allow you to number and organize tables by tapping and dragging them across your virtual floor plan. You can also divide tables in your restaurant into different zones for simpler server assignments and restaurant management, and color-coding allows you to keep tabs on occupied seats. The meal progression graphic shows which course a table of guests is on. In addition to hardware costs, there are four paid plans available, ranging from $99 per month for one device, to $399 per month for up to 10 devices.
Taking the next step
When you are ready to add or upgrade your table service management POS system (or any other aspect of your POS system), we are here to help. The best way to begin is to use our price quotes tool. Tell us your needs, and we will provide you with price quotes from up to 6 dealers in your area. With the assistance of one of our trusted partners, you can choose the best table service POS system for your restaurant.