POS Restaurant Dealers Offer Industry-Specific Features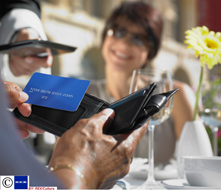 When contemplating the purchase of equipment, software, or expertise with which to improve the efficiency and smooth workflow of your restaurant, the smart move is to consult with dealers who know your industry inside out, and who have resolved the kind of situations you deal with on a day-to-day basis. You want your account rep to be an expert in the details of restaurant operation and management, rather than just a polished closer with a product to sell. You need someone who truly listens to and understands your business model down to the minutest detail, and will guide you to the best possible solutions, rather than racking up commissions by playing hit or miss with your money.
Restaurant Versus Retail POS Systems
Restaurant and retail POS systems might share some similarities, particularly in the appearance of some of the hardware, but in practice, they have significant differences. Failure to recognize and account for those differences can leave you with a costly system that puts your business in worse shape than it was before you tried to improve it. If you choose the wrong type of POS system you may have a device that was either specifically designed for one application but is tweaked to marginally fulfill a purpose for which it was not originally intended, or you'll wind up with one that is a generic attempt to meet an impossible array of specific tasks. In either case, actual application of the system will generally require more training than will a system created specifically for your business type, and it may still not do what you need it to do. Some of the ways in which the restaurant and retail POS systems differ are as follows.
Hardware differences
Retail: Retail POS systems focus primarily upon the transaction itself and rely heavily upon barcode scanners at a fixed checkout point to efficiently input product information. The register itself is usually somewhat generic, with an alpha-numeric keypad or touchscreen keyboard to facilitate the manual entry of data, particularly for smaller items that lack a barcode. Portable scanners and display devices are typically for back-of-store operations, such as checking inventory levels and indicating stock locations, particularly in large, warehouse-based businesses. Transactions are processed immediately for payment, typically taking place at a cashier station, front desk, or in the case of online retailers, by means of an automated or semi-automated shopping cart. Customer receipts are automatically generated and sent either to an invoice/receipt printer, as an account update to accounts payable, or via email to the online customer.Post-transaction functions generally include inventory adjustment and order management by part number, logging into a customer account database to establish purchasing history and develop customer preference and appreciation information, and invoice processing and mailing.
Restaurant: Unlike retail POS systems, restaurant POS systems are based upon a more static, running total, to make allowances for additions to the original order such as staging drink, appetizer, and drink choices on the initial order and adding subsequent items such as additional beverages and desserts after the initial order has been served. Full service restaurants often utilize portable input devices, either carried by wait staff or installed at tableside. Individual orders are sent via Wifi to both the kitchen and the central cash register.Data entry is typically via user-friendly touchscreen interface that is easily and quickly customized to indicate such things as price and availability of regular menu items and daily specials.
Software differences
Retail: As is the case with hardware, retail software is primarily geared to the input of part number-based product information, including order quantity, price, total price, tax if applicable, and total transaction amount. This is followed by the immediate closure of the transaction, either by cash or credit/debit card payment or automated input to an accounts receivable database.Information at the front desk or cashier is generally limited to the immediate transaction. Additional information, such as warehouse location, quantity on hand, estimated delivery date and quantity of stock replenishment orders or backorders is also accessed from inventory/materials control terminals. Safety stock access, low stock alerts, and updated shipment status is also made available to these terminals.
Restaurant: Restaurant POS systems typically have a simpler, user-friendly and readily customizable user interface. Daily or seasonal specials and their availability for order are typically displayed on both the main register and tablet-based portable terminals. Where retail databases and product listings are typically sorted by part or assembly number, restaurant POS systems display menu items either by description, graphic icon, or both, to simplify and expedite input.Once an order is placed, either by tablet or via the main or bar register, the order is placed in cue on bar, kitchen, and line prep displays. Order status is updated via these touchscreen displays. At the time of checkout, pertinent information, including items served, prices, delivery times, and product inventory updates are assembled in shift and daily reports, and added to weekly, monthly, and seasonal databases, the data in all of which are analyzed to establish performance trends and inventory resupply recommendations.
Restaurant-friendly POS features
Kitchen automation: Where menu selection input might list a simple description of a menu item, such as Rack of Lamb or Manager's Special, with customer preference options noted, the display in the kitchen can properly stage individual options, such as side dishes or special cooking instructions. The display in the prep line can display only incidental requests, such as salad orders or special accommodations as requested. The items in both areas can be automatically phased so as to assure proper timing for delivery. This automation can reduce overall labor costs and ensure timely presentation of each course, while also providing management with reports on performance of all staff functions. POS vendors 24-7, Revel, and TouchBistro all offer competitive, customizable systems to meet the individual restaurant's needs.
Tableside ordering: Ordering at tableside is unique to the restaurant industry. Whether orders are taken by wait staff via portable tablets or via permanently installed ordering stations at each table, the typical user interface must be designed to be highly intuitive and easy to input. The tableside input devices can also offer payment processing, printed or emailed receipt delivery, and customer experience feedback and ratings. TouchBistro and Future POS are but a couple of vendors who are fully familiar with this feature, offering a wide range of systems to satisfy your unique requirements and budget.
Self-service kiosks: Especially for Quick Service Restaurants, which cater to customers more interested in expedience than atmosphere, self-serve tablet or touch-screen kiosks can virtually eliminate delays, particularly during high-traffic periods. Ordering via either an installed iPad or by means of WiFi enabled smartphone or iPad apps allows the guest to customize and place the order at his or her own pace, with the order immediately sent to the kitchen for prep. Simplicity of the user interface minimizes the potential for ordering mistakes, which further serves to ensure customer satisfaction. Card processing is handled at table-side as well, with receipts either printed at a table-mounted or centralized printer, or emailed / texted directly to the customer. Granbury Restaurant Solutions offers a wide range of self-service kiosk systems.
A good restaurant POS system can include such options as flexible server assignment, customizable transaction processing such as ticket splitting and combining, credit card or app payment options, and customer drivers license or loyalty/gift card scanning. Naturally, the front-of-house options tie into kitchen, server, and prep area automation, as well as back office functions.
To you a restaurant owner, this translates to a superior overall customer experience, as well as kitchen and server efficiency and overall business management via Quickbooks integration, cloud backup storage and simplified development and delivery of promotional offers. Put together, these spell higher profits for you. Considering that a restaurant POS system can cost as little as $499 for a single-station system and $49 per month for a single software license, it doesn't take long to realize the net benefit to your bottom line, as well as improved employee morale and customer satisfaction. And that is how restaurants spell success.
If you are ready to take the next step in adding or upgrading your restaurant POS system, we are here to help. Our Price Quotes Tool can get you started now.