Are Wireless POS Systems Secure?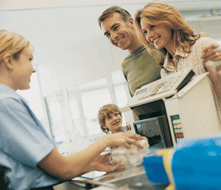 Much like everything else in the world, the wireless restaurant POS is helping to give greater access to those who use it. The advantage of using a system without the use of any wires is the fact you can literally put the units anywhere you need them. You can even move systems from say a deck to indoors when the weather may turn inclement unexpectedly.
The reason why the wireless restaurant POS system is so versatile is because there are not a lot of wires which you have to consider. The normal thought process when dealing with POS is where the unit can be placed so the wires can easily be hidden from site. This can cause your staff to run long distances just to get to a unit. By going wireless you can eliminate this problem.
An effective POS wireless setup in restaurant dining rooms
When it comes to an effective POS wireless setup, there are no set rules as to where in the restaurant the stations should be set up. This is because the flow of every restaurant is different. The best location for stations is in the areas which the wait staff will be traveling in order to accomplish other tasks. Historically this has been in the wait stations, but this presents a problem.
The biggest problem with putting a POS station in a wit station is the amount of waiters trying to accomplish other tasks. You can also run into problems such as spilled drinks destroying expensive hardware. The POS wireless setup allows you to set up stations which are in traffic free zones and far away from anything which can spill on the unit causing hundreds of dollars worth of damage.
Security of the wireless restaurant POS
It is understandable many people will be skeptical over the security of a wireless restaurant POS. It is important to keep in mind these machines use encrypted broadcasts in order to securely transfer information from one location to another. These are just as secure as using a laptop which is loaded with security software. The units are designed in order to protect not only your business, but your guests.
The encryption security is highly important seeing as you will be using the stations to take payments made from credit cards. The last thing you need is for someone's information to be stolen from your restaurant. It can result in lost sales and bad publicity for your restaurant. Rest assured, the wireless restaurant POS you install will help to protect your company.