Honor Your Repeat Customers With Loyalty Card POS Systems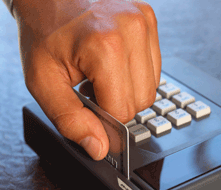 Customer loyalty is one of the most critical factors to drive a successful business. Loyal customers that keep coming back for more are what will separate you from your competitors that close their doors when times are tough.
In fact, a CustomerThermometer survey reveals that:
68% of customers won't return if they feel a business is indifferent to them.
Businesses that focus on customer experience have 60% higher profits than competitors.
50% of customers are drawn to the convenience of electronic interaction.
43% of customers are more likely to complain online.
A satisfied customer will tell nine people on average about their good experience.
An unhappy customer will tell 22 people on average about their bad experience.
Clearly, the power of customer loyalty can make or break a business. One of the most effective ways to focus on customer service and to reward customers for their business is to integrate a repeat customer loyalty program.
Different Types of Loyalty Programs
Different types of businesses require different types of reward programs. For a loyalty rewards program to be successful (ie promote repeat purchases and enhance the customer experience), it must be tailored to your customer base. When it comes to the hospitality industry, there are five basic rewards programs to consider, and it will require a solid understanding of your market and your customer base to decide which is right for you and your business.
The Point System: This is perhaps the most common type of loyalty reward program. Frequent customers are rewarded points according to money spent or number of visits. Sometimes these are physically marked on a loyalty card, or, as is becoming more common, stored digitally on a card or smartphone app. This type of program works best for businesses that depend on frequent, short term, purchases. Common examples would be cafes, fast food restaurants, and food trucks.
The Tier System: The tier system allows repeat customers to accumulate points which lead to preset discounts and special offers. As points are accumulated, the customer enters a higher tier receiving more extensive benefits. This type of rewards program is fairly common with airlines and credit card companies, though it can be suitable for high end restaurants appealing to an exclusive clientele.
The VIP System: More of a subscription service, the VIP system provides exclusive benefits to customers in exchange for an annual fee. It may be a regular 10% discount on all purchases, preferred booking status, or free delivery. In other words, members get special privileges. A perfect example would be Amazon Prime.
The Coalition Program: This type of reward program involves partnering with other business in your niche to provide more diverse customer rewards. Customers earn points according to their purchase history, and are rewarded with discounts or special offers from a partnering business. This type of program is best suited for community based businesses whose success may be tied to the performance of a destination shopping district or downtown development.
The Game System: Games and sweepstakes can be a way to promote repeat business. After customers reach a preset spending threshold, they can participate in a game, or enter their name in a sweepstakes, for the chance to win prizes (discounts, free food, etc). A gaming loyalty program can be effective for smaller, trendy, restaurants and cafes, but it can fail when applied to the wrong type of customer base.
The Benefits of Restaurant Loyalty Programs
Integrating a customer loyalty program into your POS system has a number of distinct benefits. Naturally, it is designed to drive profits, and recent surveys have proven that businesses with repeat customer programs generally realize a 30% to 40% rise in sales.
Customer Retention: Customers that recognize the value of the program are more likely to return again.
Increased Traffic: Customers enrolled in a loyalty program are more likely to choose your restaurant over a competitors, and are apt to bring along friends and family to reap the rewards.
Targeted Marketing: Customer loyalty programs can be used to track spending habits, informing future marketing campaigns and making them more effective.
Promoting Special Offers: Loyalty programs can be used to maximize the effectiveness of special offers, improving customer relations and driving traffic to certain days of the week. This can be invaluable for promoting mid-week specials and turning those off days into money makers.
But beyond the financial benefits, a well-planned loyalty program will enhance the customer experience, instilling a brand loyalty that will inspire your customers to promote your restaurant as the place to go for great food and friendly service.
Shopping for a Restaurant Loyalty Card POS System
When the time comes to integrate a loyalty card POS system into your business model, there are a few key points to consider.
Account Tracking: If a customer forgets his or her card, staff should be able to look up and track the rewards on their account through the POS system.
Card Transfer: The POS system should support account, point, and balance transfer to a new customer loyalty card, whether virtual or physical.
Account Storage: Customer account data must be stored in such a way that if the POS system fails or loses power the information can be retrieved and transferred when the connection is restored.
Automatic Configurations: When changes are made to your customer rewards program, this will immediately be reflected at each of your restaurant locations.
Customer rewards programs are an effective way to promote and grow any hospitality business. While the value of a general point of sale system is undeniable, the addition of Loyalty Card POS Software can further help to boost customer retention, increase off-peak traffic, and encourage brand recognition. The software upgrade is simple, and our in house experts are at the ready to help you find the most suitable loyalty card program for your business.
Restaurant POS Central's years of experience with the hospitality industry gives us a unique insight into the operational needs of restaurants both large and small. Whether you are running a full service or quick service restaurant, an elegant downtown eatery or a funky mobile food truck, you can rely on our expertise to match you with an integrated Loyalty Card software program that will help you increase your business' productivity and boost its bottom line. After discussing your current business model, and your unique customer experience needs, our highly trained staff will be more than able to recommend the precise software upgrade your restaurant needs to reach a new level of success.