POS Scales Ensure Accurate Checkouts for Self-Serve and Cashier-Assisted Transactions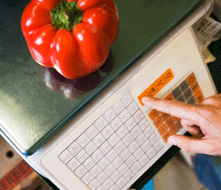 If your restaurant, supermarket, deli or other foodservice retail operation sells items by weight in produce stands, bulk bins, salad bars and the like, it is important to accurately track each penny of individual purchases. This can be challenging; in fact it's nearly impossible without the proper technology. Whether you offer self-service checkout, cashier-assisted checkout or both, point of sale (POS) software technology can help ensure accuracy in transactions that charge by weight, using a POS scale to track inventory.
How different food-service businesses use POS scales
A POS or cash register scale can be used in:
Grocery stores and supermarkets: POS scales are used to weigh items such as produce, salad bar items, nuts, candy, tea leaves, coffee beans, bulk herbs or spices and other bulk items. A properly integrated scale can also print barcodes, as well as information such as the purchase date, item description and nutritional data normally found on consumer products packaged for individual sale.
Delis: Deli owners and managers use POS scales to precisely weigh and track items such as bulk processed meats, cheeses, deli salads and spreads. Most commonly, an employee weighs the product and types in a key code, and the scale will print a bar code sticker. The sticker is then scanned at the point of sale system, whether at the deli counter or, in the case of a supermarket with an on-site deli, at the front cash register. Delis also increasingly use label printers that can provide detailed information about the item, including nutritional information.
Butchers: Because butchers handle whole carcasses as well as a range of "specialty" meat items, and the profit margins necessary to remain competitive are low, it's particularly important for butchers to be able to track inventory and keep wastage to a minimum. A good POS system with an integrated scale can weigh each piece of meat down to the ounce and can print out the information on a label.
Seafood markets: Like meat, most seafood is sold by weight. Although handling a whole king salmon or a crate of snow crab legs may not be as logistically challenging as wrestling with a steer carcass, it's still vitally important for seafood merchants to accurately track both fresh and frozen inventory. A POS scale can ensure that every transaction is accurate and fair.
Bulk food and health food stores: These retailers utilize POS scales in many of the same ways that grocery stores and supermarkets do. As most bulk food items are sold by weight it is crucial to have an accurate means of weighing, measuring and tracking each item sold.
Convenience stores: Since people generally go into convenience stores because they're in a hurry, rapid and accurate processing of all purchases is necessary in order to properly serve customers. While most items in a convenience store are individually priced, a scale is useful for produce, prepared foods (self-serve or otherwise) and other items that are often sold by weight.
Frozen yogurt shops: Frozen yogurt is wildly popular, especially among health-conscious consumers who have their own reasons for desiring accurate measurements of quantities sold by weight. Because much of the industry caters to self-serve customers it is necessary to have a good POS scale in order to ensure precision.
Cafeterias, buffets and salad bars: Though these retailers generally charge a fixed price for dine-in meals or individual menu items, takeout food is a different story. Accurate weighing and tracking of takeout items is essential.
It's easy to see how useful a POS scale can be to foodservice businesses, but choosing the right one isn't always so simple.
From simple to complex: the types of POS scales
A POS scale can be used as a standalone item or in conjunction with a scanner and printer, and can be operated self-service or by a cashier.
There are three main categories of POS scales
Weight-only scale. This is a simple electronic scale to weigh products and bulk goods. It can transfer the weight data to an external device such as an electronic cash register, a PC or other electronic device, and can be integrated with a storewide or company-wide POS system. These scales are often operated by a cashier and may range in price from $450-$1000. One example is the Brecknell 6720U series, with capacities ranging from 5 lb to 60 lb, platter sizes from 6'x10' to 12"x14,"and the ability to read in whole, tenths,and hundredths of a pound, as well as pounds, ounces, kilograms and grams. Retail prices range from $459 to $539.
Price computing scale. The next step up in complexity, this is a programmable scale that can be either standalone or integrated with pricing databases to calculate and document both the weight and cost of any item. These scales range in cost from $400-$1000. Example: The AND SF Series Price Computing Scales have capacities ranging from 15 lb to 60 lb, 11.8"x11.0" tray size, and are interfaceable with printer or PC. Retail price is $395.00.
Scanner-scale combination. This offers both barcode and QC scanning and weighing for self-service or cashier use; the scale is complemented by a laser scanner to instantaneously read barcodes. A scanner-scale is often used in conjunction with a self-checkout kiosk or by a cashier at a grocery store. Example: DataLogic Magellan 8400 Scanner/Scales offer 15 to 30 lb capacities and platter sizes ranging from 11"x14" to 11"x20." Different models scan all standard barcodes, and provide interfaces for connection to POS systems. Prices range from $1,600 to $2,400, depending upon capacity and features.
A hands-free POS scanner-scale may start at $1000, offering 360° rotation with five sided scanning, and a barcode scanner-scale with even more accurate first read support could cost as much as $2800. The extra cost is money well spent for many businesses, particularly those that experience busy lunch or dinner rushes where manual errors are likely to occur. The ability to scan barcodes also helps to keep lines short in a deli or supermarket. And a POS scanner-scale can help not only with inventory control, but also with accounting and reporting.
How to choose the right POS scale for your business
Before considering a purchase, determine the exact use of a scale in your business – whether it is for weighing produce in a supermarket, tracking food purchases in a cafeteria, or scanning bulk goods in a convenience store.
Though price is certainly a factor, frequency of use and maximum weight capacity should be taken into account first of all. If you purchase a scale that does not support the average weight capacity in your business, inventory tracking will be sub-par at best. On top of that, customers may complain about the holdup if items have to be weighed and added manually before being input into a POS system.
While a number of point of sale scales come with their own specialty features, the right scale for your business should be easy to read, accurate, and reliable (with good customer support). In addition, you need a scale that is easy to install with a POS system or electronic cash register.
There is no one-size-fits-all solution for POS scales or systems. By all means do your own research, but when you are ready to purchase we are here to help with our price quotes tool. Tell us what you need and we will provide you with price quotes from up to 6 dealers in your area. We're here to help you make the best choice for your business.