POS Portability Benefits Patrons and Staff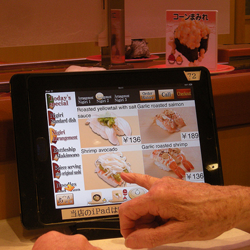 Every restaurant owner and manager knows you can't sell to a customer when you're busy ringing up an order on the computer. But what if your waitstaff never had to leave the table to order food or run a credit card? In effect, you cut down on the unprofitable parts of a restaurant business when you implement POS portability. Here are the clear benefits, for both staff and patrons, of moving to a portable system for ordering and settling checks:
Faster ordering. The phrase "I'll be back after putting in your order" need never be uttered when your servers carry a portable POS system. They enter orders as they take them, eliminating the need to walk to the kitchen (or a traditional computer) and order the food there. That leaves them open to take an order at the next table without breaking contact with their section. By eliminating unnecessary steps, you initiate service and turn over tables faster.
Fewer mistakes. Another benefit is the reduction in server errors. When orders are entered right as they're received from a customer, there's less chance of details being lost in translation. POS systems also deliver reports for every shift, so your chef and management can see where mistakes are being made and address the errors before they get out of hand. It's a less wasteful system.
More opportunities to sell. When your servers have to leave their section less often, they'll be there to help customers who want another round of drinks, an extra bottle of wine, or another side of fries. There are always missed opportunities in the course of service, but your team can make those extra sales if they're staying in the section and making themselves available.
More information at servers' fingertips. How many of your servers have memorized every price on the wine or liquor list? It's impossible to keep track of so many menu items, yet POS portability gives them instant access to that information. Waitstaff can answer customers' questions about price and availability without the walk to get a menu or trip to the kitchen.
A simpler, more reassuring payment system. Finally, offering customers the opportunity to handle payments right at the table is a more reassuring way to end the meal. You can add payment processing to a portable POS and let patrons swipe the tablet's reader before they sign electronically. They'll feel more secure and your servers can close their checks faster when the equipment is on their person.
When adding portability to a restaurant's POS system, customers and staff members alike benefit, making your business the ultimate winner.