Touch Screen POS Systems Have Become the Restaurant Standard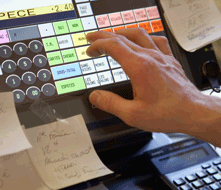 More and more restaurants, from corporate chains to franchises to mom and pop bistros, are switching to touch screen POS systems to expedite employee training and increase the efficiency of the operation as a whole. Simplifying the seating and ordering process is just the beginning of the benefits that the restaurant owner can realize with such a system.
Touch Screen POS Systems Red Flag Mistakes Before They are Made
A well-designed touch screen POS system can catch errors before they ever get to the kitchen, such as by preventing a server from entering an order for an item that is running low or 86'ed, or from accidentally ordering something other than what the customer desires. Servers generally prefer the tablet input to written orders or being required to commit an entire table's orders to memory, especially during a dinner rush.
Communication Simplified
Successful restaurateurs know that no matter how well-trained and motivated their employees are, there are times when a communication breakdown between hostess, server, kitchen, and cashier sometimes occurs, generally during the busiest of times. Reservation errors, incorrect orders due to hurried handwriting or oversight, orders of 86'd dishes, and bad prep timing of different entrees are but a few of the potential glitches that can occur between initially greeting the customer and bidding them good evening. The result can be extreme customer dissatisfaction, friction between employees, and ultimately, reduction in profits. Touch screen POS systems have evolved to the point where the potential for such breakdowns is all but eliminated, making for a better experience for all involved.
With a modern POS system, each server knows at a glance which tables are in his or her section, how long they have been there, and when their order is prepared. Announcements can be sent to all servers to alert them to which dishes should be pushed, which are running low, and which are no longer available. Having the tablet in-hand can also alert a server when one of their customers has made a request of another server in their absence. And in the event that there is a customer dispute, you will have all the information you need to figure out and correct the problem quickly.
Employees are Familiar with the Most Widely Used Tablets
A significant part of the successful implementation of touch screen POS systems can be attributed to the workforce's familiarity with the iPad and other commercially-available tablets. The learning curve for the iPad's and other mainstream tablets' use in the food service industry is not nearly as steep as that of more costly proprietary tablet-based POS systems.
Touch Screen POS Systems are Scalable and Customizable
Quick-service restaurants tend to rely upon more rudimentary POS systems, since the typical order is placed, paid for, and delivered in one process. The customer/merchant exchanges in full-service restaurants, on the other hand, typically have several contiguous processes, from initial drink and appetizer orders to more complex entrée orders, additional drink requests, and requests for separate checks. Both types of POS systems can provide restaurant management with additional data, including inventory and staffing management, shift and daily sales reports, and even weekly and monthly sales and cost of sales analyses. The quick-service systems provide the cashier and kitchen with the information they require in order to maintain a smooth, essentially single-product flow of merchandise to the customer, while providing management with additional data upon which to forecast future staffing and inventory levels and evaluate specific area and overall efficiency. In both the quick-service and full-service environments, the iPad POS system provides a wealth of useful information that a cash register-type of system simply cannot provide.
Information is available without having to chase down a server or disrupt kitchen flow
Since iPad-based touch screen POS systems function on a secured network, all current information can be made available wherever it is needed within the restaurant, with all registers and authorized employee tablets synched in real time. Managers can maintain oversight of servers and kitchen personnel response times and incidental items appearing on a customer's ticket, potentially averting problems before they even occur. If a manager spots something questionable, a message can be sent privately direct to the affected employee(s), advising them of the need to address the situation. If potentially problematic patterns seem to be forming in specific areas, the manager can address them immediately.
For multiple-location operations, or for single-unit restaurants where the owner / manager prefers to perform analyses offsite, all information can be automatically uploaded to the cloud, allowing instant access to authorized personnel. Security concerns are addressed first by Apple's comprehensive hardware and software-based measures, complemented by the firewall and encryption measures integral to each provider's systems.
Finding the Right Touch Screen POS System
Different types of restaurants naturally have different needs, and there is no universal "best" system that meets those individual needs.
Bar / Restaurant: One surprisingly affordable and highly scalable system that stands out for meeting the unique requirements of combination bar/restaurants is PointOS, which offers features designed by bar/restaurant owners, and specifically geared to meet the needs of the bar/restaurant type operation. Among those features:
Full systems or software only, with prices starting at just $499
Stand-alone or multiple workstations with 15" touchscreen displays
Intuitive interface requiring minimal training
Speed Optimized Point of Sale
Full Reporting With Excel/Email Integration
Integrated Credit/Gift Card Processing
Customer Tracking and Contact Tools
Inventory Management and Reorder
Dining Room Layout Designer
Integrated Touch Music Player
Employee Scheduling and Time Cards
Easy QuickBooks Integration
Seamless tablet integration capabilities (7" and 10" tablets available)
Quick Service Restaurant (QSR): For the ever-changing menus and high volume of the QSR operation, Shopkeep provides an easily-integrated solution, with customizable interfaces to let you focus on your product, rather than the nuts & bolts of your system. Some of the features include:
Easily customizable touchscreen displays
Time clock
Automated shift reports
Customer contact information database with email promotion capability
Simplified gift card creation and acceptance
ShopKeep Pocket™ app allows remote, real-time monitoring
Low, $49 per month per register cost for software, support included
iPad capability
Food Truck: Efficiently managing food trucks presents unique challenges. Maintaining accurate records and rapidly-changing menus, even when disconnected from cloud-based features, is an essential element of a viable mobile POS system. Companies such as Bevo POS address those challenges quite effectively, offering specific features that are essential to food truck operations, such as:
Integrated mobile packages, with card reader and receipt printer
Cloud-based operation facilitates online ordering
Remote back office access
Customer loyalty reward capability
iPhone app
Integrated Wifi hotspot capability
Free, fully functional 30-day trial
In-house financing available
To have the best chance of successful implementation, at the lowest possible cost and with the fewest headaches, your best bet is to let us find dealers in your area for you that can meet all your specific needs.