Popular Types of Delivery POS Systems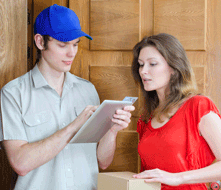 The delivery POS system is used in order to take and track all orders as they are processed through your store. The POS system can be used in order to make sure you have the order right when it is being placed by your customer. The easy to read screen can be read back to the customer in order to make sure nothing which should be on the order is missed.
The delivery POS system can also be used to make sure at every point in the process of filling the order, the information is being properly shared. This allows multiple employees to do their part in filling an order. You can even have the system set up where you use screens instead of paper invoices in order to see all orders which are being filled at a given time.
Online orders through the point of sale system for deliveries
More and more companies are using web based point of sale system for deliveries. These allow your customers to place their orders online just as easily as if they were on the phone with you. This gives customers the confidence they are getting exactly the order they want because they can see every part of the order they are placing before confirming the order and sending it to you to be completed.
The benefit to using the web based point of sale system for deliveries is it allows your employees to do other things. They will not be slowed down by requiring a lot of employees to man the phones. More employees can be utilized to actually fill orders. The payments for the orders can also be processed through the same system which took the order to begin with.
Using the delivery POS system to generate invoices
One of the many different asks the delivery POS system can accomplish is generating invoices. This is very important for deliveries in order to make sure everything is in the order before it leaves your store. The same invoice will help to make sure the customer can easily see that everything they ordered is included in the order which is being delivered to them.
The different invoices can be used to calculate the sales for the day, week, month or period. This will help you when calculating income, profits and losses. The digital invoices are also a good way for you to keep track of the orders which are placed by different customers in order to discover the items purchased most often by any given customer. This gives you the opportunity to anticipate what a customer might want when ordering next time.