Gain More Customers With a Food Truck Point of Sale System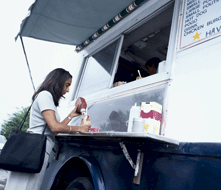 Food trucks are the latest craze in culinary innovation. In fact, you're likely to find a food truck parked at a popular corner in any major city throughout the US, serving long lines of office workers on the weekdays and crowds of bar-goers after bar close.
Yet in the restaurant industry, food truck concepts are considered much more than a fleeting trend. Thanks to the power of social media, a mobile food truck can market inexpensively to local customers to communicate their location, hours, and daily specials.
Surprisingly, 72% of food trucks currently operate on a cash only basis. While cash may spell convenience, a food truck point of sale system can be used to offer street customers a full selection of payment options to drum up even more business.
Processing food cart payments: How a POS can help
In order to complement the mobile success of a food truck, a food truck point of sale system is likely to operate with a tablet device, like an iPad. Vendors have designed specific POS systems for the food cart industry that offer quick-service features through iPad ordering and payment.
The benefit of iPad POS support in the food truck industry is this: Food truck vendors will be able to take orders and process credit card payment with minimal wiring needed. Kitchen staff won't have to worry about tripping on wires and disconnecting a vital Internet connection during a lunch rush.
In addition to touchscreen iPad ordering and payment, a POS system designed for a food cart may offer features like:
Integrated printer connection
Customizable screen
Compact design with minimal wiring
Printable coupon options
Social media/text coupon creation
Incorporated customer loyalty cards/gift cards
Smartphone report viewing
Automated daily closing checkout and backup
Financial data tracking online
How to choose the right POS system for your food truck
If a restaurant POS vendor doesn't offer a system specifically designed for a food cart, it's time to move on to the next supplier. In order for a POS system to function successfully in a versatile environment like a food truck, it must be designed with mobility and productivity in mind as a top concern.
Before signing on the dotted line for a food truck POS, ask about any hidden costs that may be incurred. While a food truck POS with iPad support may be advertised as low as $2000, monthly fees and surcharges for gift cards and website access can quickly add up.
A vendor that includes all hidden fees within the total price quote can offer the most bang for your buck; some suppliers advertise gift card and web support services at no extra charge within a POS package.