Does Your Establishment Need Quick Service POS?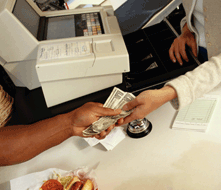 What sets one quick service establishment apart from another? No matter where you live in the world, you're probably familiar with the most popular quick service food concept: McDonald's, according to the 2010 QSR 50. McDonald's remains a top choice for quick service food, like its burgers and fries, as well as new quickie offerings, like frappes, lattes, or $1 soft drinks.
Other quick service concepts following close on McDonald's heels are Subway, Burger King, Wendy's, and Starbucks respectively. All of these quick service food chains have stood the test of time because of their ability to prepare popular bulk food items, hot and ready within seconds of an order.
The use of a quick service point of sale system can expedite "fast food" and keep customers coming back for more. Here are some of the many benefits you can receive from using a quick service POS system in your establishment.
How can a quick service POS benefit your business?
A major quick service chain like McDonald's wouldn't be able to function without a state-of-the-art POS system in each location.
Besides speed, a quick service point of sale can provide advantages like:
Flexible ordering. Versatility in the quick ordering process goes hand in hand with speedy service. A POS may be outfitted with a touchscreen menu that will allow cashiers to create meal combos, manage portions, and process customized orders professionally.
Meal deals. A flex ordering menu in a POS can be used for individual order entry and meal deal pricing at the touch of a button. Cashiers can build a new meal deal using interactive touchscreen prompts for each meal combo selection.
Upselling. Although individual fast food tickets are likely to be low, quantity supports sales in this type of establishment. A quick service point of sale equipped with upselling features can increase ticket totals by adding items or prompting customers to purchase a larger size.
Self-ordering. The way of the future in quick service is in self-ordering fast food kiosks. A self-ordering tool can be used to speed up service time, cut down on long lines, and reduce overall labor costs to improve profit.
Quick service point of sale integration: What to know before you buy
Before you even think about investing in a new quick service POS for your eatery, take the time to seek out a vendor with experience in your industry. While a number of vendors advertise restaurant POS systems, it's best to look for a dealer that supplies a quick service solution specifically related to fast food, café, cafeteria, or sandwich shop dining.
Most quick service point of sale vendors will allow you to download trial software before you buy to test the system in your store. A vendor can then offer a more detail